The Grand Showing for 2021 Alpine Touring Skis
There is a lot of innovation to note in the world of touring skis for the 20/21 winter season. Many companies have redesigned already beloved series, and other companies have created new skis with new technologies altogether. Here is just a preview of the preview:
DPS has gone off and produced a few unique patents with the development of their Pagoda series (Tour and Piste). Black Crows redesigned a select few of their touring-oriented Freebird Series. Kastle has revamped their lightweight TX Series. Black Diamond fills out their quiver of touring skis with ultralight Cirque offerings. Scott is bringing their Euro-popular Superguide ski series here to the US. Even touring world giant Dynafit has debuted their Blacklight series sure to shake up the ultralight ski category.
There are a ton of new skis to salivate over, so we better get started. But first, kudos to all of these brands for pushing design and development within the world of ski touring. Backcountry skiing is the largest growing segment of the ski industry, so it makes sense that companies are fulfilling demand. But am I the only one who thinks that ski touring is getting easier every year? Is equipment really getting that much better? (yes) It's great to see more focus directed towards human-powered skiing. So let's get into the dirty details of 'what's up with this year's touring skis.'
2021 Alpine Touring Ski Preview
New Skis For All Kinds of Touring
DPS Debuts the Pagoda Tour & Pagoda Piste
Backcountry Performance with DPS Pagoda Tour
The
Pagoda Tour
Series from DPS is a huge step forward for touring ski performance. We at Cripple Creek always measure a ski's performance-to-weight ratio: how well does a ski performance for its specific weight? The DPS Pagoda Tour series has set a new standard for performance-to-weight ratio within the touring world. They did this by marrying an advanced pre-preg, double-sheet carbon layup with an ash, paulownia, and aerospace foam core. That high-tech sandwich is then wrapped with a [patented] one-piece, pour-in, full-wrap PU sidewall. DPS is at the forefront of ski research, development, and design. The Pagoda Tour is their latest debut this engineering-based ski design. Cheers to the guys in Utah for creating a phenomenal product. The Pagoda Tour series includes a 112 RP, 106 C2, 100 RP, 94 C2, and 87 C2. The RP stands for Resort Powder; it's playful and promotes a surfy style of skiing. The C2 stands for Chassis 2; it's an all-mountain, directional ski that rides with predictability and confidence. If I had to create a new-age, all-season setup for 2021 it would be the
DPS Pagoda Tour 94
ski, the
BD Helio 180 binding
, and the
Scarpa F1 LT boot
. That rig could get you to Mars with still enough gas for an extra lap.
Carbon On-Resort Performance with DPS Pagoda Piste
The Pagoda Piste is the downhill oriented cousin to the Pagoda Tour. It features a similar construction of pre-preg carbon fiber both above and below the core as well as the [patented] one-piece, pour-in, full-wrap PU sidewall. The core is a combination of ash and aspen (instead of the PT's paulownia, ash, and foam). These are higher performing skis on the downhill in exchange for added weight on the uphill. The Pagoda Piste will give you a ton of energy (from the carbon fiber) all while still providing a remarkable quiet ride (from the energy-absorbing sidewall and dense wood core).
Kastle's Redesigns the TX Touring Line
Glow-in-the-dark Performance with TX Touring Skis
The
TX Series
(that comes in 65 mm, 77 mm, 87 mm, 93 mm, and 103 mm waist width options) gets an update for the 2021 season. The Hollowtech 3.0 tips are bigger than ever - reducing tip chatter, reducing the overall ski weight, and improving the dampness of the downhill experience. They also moved the tip/tail contact points closer to the center (decreased the turning radius) to make for a generally more playful, more maneuverable ski. These are great improvements to Kastle's lightweight, but downhill-focused, touring ski series. These are not Freetouring skis that like to charge and crush, but expert-oriented touring skis that provide accurate skier feedback and sharp downhill precision. An unreal expert skier, all-season touring setup would be the
TX 103 ski
, the
Plum Oazo 8
binding, and the
Hoji Free
boot. Huge Bonus points for the matching color scheme. Fun Fact: The TX 103 is the first time Kastle has come out with a touring ski wider than 100 mm underfoot in over four years. We're excited to see this addition of a wider option to Kastle's TX series. Another Fun Fact: the entire series glows in the dark.
Black Diamond with Helio Carbon & Cirque Skis
Black Diamond's Full Touring Line Up
Black Diamond revamped their Helio Carbon Series and introduced the new Cirque Series - both in the same season! The Helio Carbon Series is a pure-bred touring ski that balances a lightweight construction with an all-mountain shape. They will come in an 85 mm, 95 mm, 104 mm, and 115 mm width. Each ski will tailor to different backcountry conditions, from the hard snow 85 to the powder surfing 115. All of the skis in the lineup feature a tip rise, camber underfoot, tail release shape to easily initiate turns and provide for a nimble style of skiing. Compared to the Helio Carbons, the Cirque Series is designed for moving light and fast in the mountains. They are tools for efficient mountain travel, boasting one of the best surface area-to-weight ratios of any ski on the market. The Cirque Series comes in a 78 mm and 84 mm width, two sizes perfect for long traverses or technical ski mountaineering where weight matters as much as security on challenging descents. The Cirque Series varies from its new Helio Carbon bretheren in a few particular ways. The Cirque skis are built with a unidirectional carbon fiber / fiberglass weave (compared to the Helio Carbon's multi-axis weave) and a semi-capped construction with sidewalls underfoot (the Helio Carbons have full perimeter ABS sidewalls). Both ski series use an engineered paulownia wood core. In short, the Cirques are more uphill oriented touring tools made to maximize efficiency while the Helio Carbons are more backcountry touring skis designed to balance uphill and downhill performance. A lot of new options this year from a great company based in Salt Lake City.
Scott Euro-Popular Touring Series
Scott Gains Traction in the North American Market
The Superguide series from Scott is redesigned for this season, while also adding a new width to the quiver (there is a 88 mm, 95 mm, and new Freetour 104 mm width). We're seeing this theme of Freetouring bubble up across a lot of different touring companies. People want a ski that doesn't empty the tank on the tour up, but can charge on the ski down. The Superguide Freetour is a 1580 gram (178 cm length) 104 mm ski that could be a great all-season, downhill-proud touring option. The Superguide series is a paulownia core with three Beech stringers, then laced with a Carbon/Aramid lattice. This construction incorporates lightweight wood with carbon-provided torsional rigidity. The interesting new design for the Superguide is the 3Dimension sidecut shape. The 3Dimension shape is a tight radius in the tail, a wide radius in the tip, and a longer radius underfoot. This creates a ski that can perform both fast GS-style powder turns and then narrow couloir-mandated turns as well. Scott is quite popular over in the Western Alps of Europe, and we're excited to bring more awareness amongst us North Americans of this stellar touring ski brand.
Black Crow's New Freebird Flock
Freetouring Corvus Freebird
The
Corvus Freebird
was Black Crow's flagship shape with a lightweight touring construction. The Black Crows classic was updated for this season to better meet Freetouring needs: a titanal plate was added for improved binding retention (also better accommodates hybrid style bindings), the turning radius was increased, and the tip rocker mellowed out. This makes for a new and improved Corvus that can handle higher speeds and harder turns. It's ultimately less playful and more aggressive. Black Crows is queuing into the rise of Freetouring with this updated classic. The
Corvus Freebird
paired with a
Hagan Core binding
and the new
Scott Freeguide Carbon boot
would be a dangerously high-performing Freetouring setup. Watch out backcountry world! (Let's note here that the entire Freebird Series has an added Titanal mounting plate for improved binding retention across the board)
Classic Touring Orb Freebird
The Orb Freebird received a weight reduction and reshape for 2021. The weight dropped by roughly 200 grams (now 2700 g/pair in the 173 cm length). It now has more tip rocker to help with easing turn initiation and keeping those tips above powder/crud. This will make the Orb a reliable, damp, easy skiing option in the skinnier-than-average category. This is a great touring ski at a great weight for having features like a mounting plate and full ABS sidewall. For those looking to shave grams but still savor the pure joy of a well-carved turn - the Orb Freebird is calling.
On/Off-Piste Hybrid Justis
The
Justis
is a new 100 mm underfoot all-terrain ski with rockered tips and tails. At over 2000 grams per ski, this is a downhill focused ski that Black Crows markets as a hybrid touring option: 'A ski for those evolving in the ski areas who want a ski which can safely take them further.' This is a ski that rips on the resort, has a playful rockered feel, a solid construction and flex, and just might pair with a
hybrid binding
for on and off resort skiing.
Dynafit Redefines the Beast & Seven Summit Ski Sets
Reshaped Beast Line
The Dynafit Beast Series has received a 2021 facelift. The ski has changed up its construction to shave a bit of weight while improving the overall rigidity of the boards. The ski has an ash/poplar core and full ABS sidewall, but now includes unidirectional carbon fiber stringers and a carbon fiber tip inlay. This saved the ski 70 grams while also improving downhill skiing performance. Win - win. But it's also $50 cheaper. Add another win to that statement. The revamping of the Beast is yet another exciting addition to the category of new Freetouring skis for the 2021 season. I'm now nervous for the level of downhill performance that's going to be out there this winter.
Dynafit Seven Summit Alpine Touring Packages
The introduction of the Seven Summit Ski Set shook the touring world upon its first announcement. These are pre-mounted touring ski packages that include skis, bindings, skins. Ready to unpack and hit the hills. The Seven Summit ski features poplar with carbon fiber stringers and a full ABS sidewall. They are great for fitness touring or introductory uphill skiing. The bindings included are either ST Radical or Speed Turn tech bindings, but they have an increased 50 mm of BSL adjustment to accommodate a large range of touring boot sizes. All of the climbing skins included come precut. This is the zenith of ski touring package convenience. Dynafit also features the Seven Summit Youngstar Ski Set, which is a similar setup in shorter lengths for young kiddos wanting to ski uphill (rad!).
Faction Beefs Up the Agent Touring Series
Faction Agent 3.0, 3.0X & 4.0
The Agent Series are Faction's touring specific skis that are lightweight, but absolutely epic for the way down. Faction chooses construction materials and techniques that point to the company's lack of compromise for downhill skiing performance (and those choices mean a bit of extra weight compared to other touring equivalents). The Agents feature full ABS sidewalls, a Karuba wood core, and a full layer of bidirectional carbon fiber weave. The new members to the Agent family are the Agent 3.0 & 4.0 (106 mm and 116 mm widths respectively). The 3.0 will be a mid-winter machine, with incredible downhill performance and a modern backcountry shape. The 4.0 will be a Freetouring beast, capable of floating on top of deep conditions, and blasting through fast arching turns through any type of snow out there. The Agents are for those who want a tourable ski that puts a huge emphasis on the downhill experience. It's great to see these offered in bigger widths for deeper snow conditions. P.S. The Agent 3.0 X is the same construction and design but with a boss-lady, pink topsheet.
Voile Introduces the New Manti
All New Voile Manti
The Manti is a new ski from Voile that combines designs from the equally beloved V8 and Supercharger. The V8 is known for it's early tip and tail rise, making for a powder soul surfing style of skiing. The Supercharger on the other hand is a Freetouring stick, providing a traditional camber underfoot and stiff tail to predictably initiate and finish large sweeping turns in classic Freeride fashion. The Manti has the early tip and tail rise of the V8, but the stiff flex profile of the Supercharger. We're excited to see how the blending of two different all mountain styles will fair for this 104mm underfoot touring ski.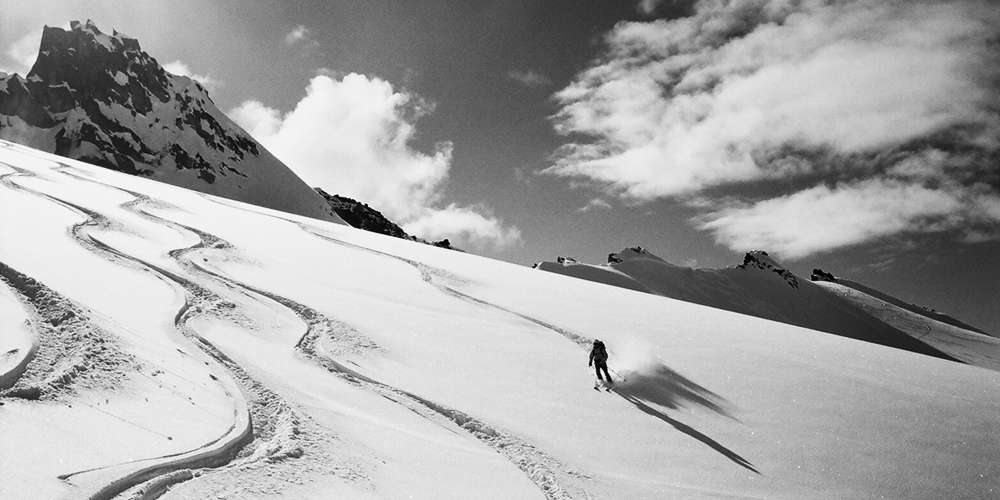 2021 New Ski Takeaways
Wow. There is a lot of fresh touring technology coming through the pipes for the 2021 season. This is a
great year for so much innovation within the backcountry ski world
. With uncertainty around ski resorts opening, limited lift occupancies, and complicated reservation systems, why wouldn't you opt out for the freedom of ski touring? The backcountry is always open, and you never need to wait in line to earn your turns. Feel free to
book an appointment
to get set up season with touring equipment. We're here ready to help you out with any of your backcountry needs. Make sure you're prepared before the snow starts to fall!