Start Them Young: Ski Touring as a Kid
Ski touring has experienced a massive rise in popularity over the past several years and many parents have reached out to us wondering how to get their kids skiing uphill. With all of the uncertainty surrounding ski resort operations for the 2020-21 season, many families are also looking for ways to get on the snow in a safe, socially-distanced way. Ski touring manufacturers have responded to this increase in demand by offering
kid
-
specific
gear
, but it takes more than just the right
boots
and
bindings
to mold young people into enthusiastic participants in a sport that can challenge even the fittest adults.
Whether you're an experienced uphill skier or are new to the sport, we've put together a guide to getting your kids onto the skin track – and to keep them stoked for years to come.
After our
How-To Guide
is a
Kid's Touring Equipment Gear List
to see all of the best options to get your kids out on the hill and earning their turns/smiles.
Ski Touring with Kids
A guide to keeping your children on the snow and off the streets by building a healthy, hefty addiction to ski touring
Safety First – Avoid Avalanche Terrain
The safest way to start ski touring for anyone, especially kids, is at a ski resort on groomed terrain. In the backcountry, the line between avalanche terrain (a slope on which an avalanche could occur) and non-avalanche terrain can be very thin. Without proper training and tools, that line can be difficult to spot and dangerously easy to cross. So, unless you and your kids are fully prepared for an avalanche rescue scenario, we recommend starting in-bounds at your local resort.
Most ski resorts now have policies and designated routes that dictate when and where uphill skiing is allowed. Some sell uphill passes, some require you to register with ski patrol before starting your day and some ask that you be at a certain point on the mountain before a certain time (ie. "at mid-mountain before 9am"). Check with your local ski hill to find out about their uphill policy before you go.
Interested in taking a Level 1 Avalanche Certification course and learning to identify avalanche terrain? Here are
all the classes available
in the US this Winter.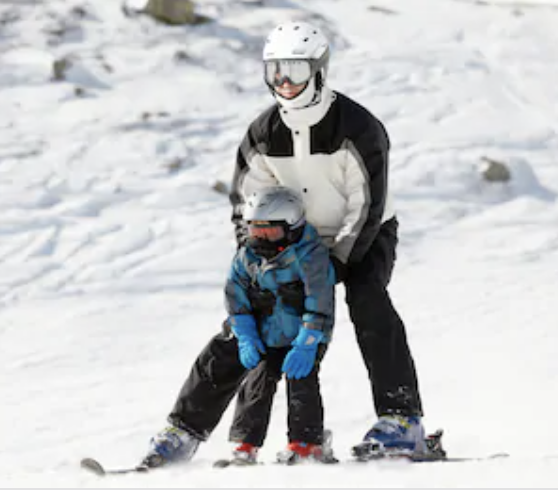 If you're doing this in a no-fall zone on a 'Considerable' day, you're gonna have a bad time
Start (Really) Small – No Objectives, Just Fun!
All of this binding talk has me sweaty with anticipation for the snow to start falling. Even expert skiers can be caught off-guard by the amount of exertion required by the uphill portion of ski touring. Kids (and adults) new to touring, no matter how hard they rip on-piste, will be using muscles they've never used before and operating at an aerobic level they're not used to. It's a lot easier to start REALLY small and scale your day upwards if the kids are keen than it is to carry a crying, exhausted child down the last two miles of an all-day epic.


For the first few times out, your only objective should be to have as much fun as possible. Plan for a shorter day than you'd expect – No peak-bagging, no set times or deadlines, just a good time outside with the family.
Nip Whining in the Bud – Set Expectations
It's a good idea to address potential challenges ahead of time and give your kids tools to deal with struggles before they arise. Have your kids practice with their gear at home before getting on the snow. On the way up to the hill, have a discussion about what to do in different scenarios: Hands are cold? Swing your arms or bunch your hands up in your gloves. Too hot? Shed a layer and put it in your pack. Tired? Find a good spot to take a breather. Can't get your skins off? Try a few more times, then ask for help. The more your kids are prepared for what to expect and the more tricks and tools they have at their disposal, the less reason they have to melt down.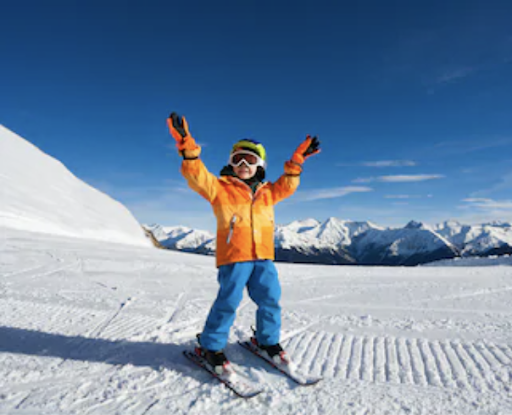 Yayyy, dad has to help me with my gloves again!
It can also be helpful to give your kids "mindset" tools to help them navigate Type II Fun. One of my favorites was passed on to me by a friend's mom on one of my first long hikes as a kid: A strict "no whining" rule was in place, but we were allowed to say "If I could whine right now, I'd say something like…" This never failed to make everyone in the group laugh, including the would-be whiner themselves. Goofy songs, games, challenges – anything to keep positivity up and complaining to a minimum.
Bring Snacks and Warm Drinks
Another difficulty many adults face when new to touring is proper nutrition on the skin track – your body burns calories at a higher rate in the cold, and this combined with the aforementioned exertion levels of our sport mean most people need to eat more - and more often than they think in order to stay energized. This phenomenon affects kids even moreso, and no one loses their cool more quickly than a hungry kid doing something hard that they've never done before.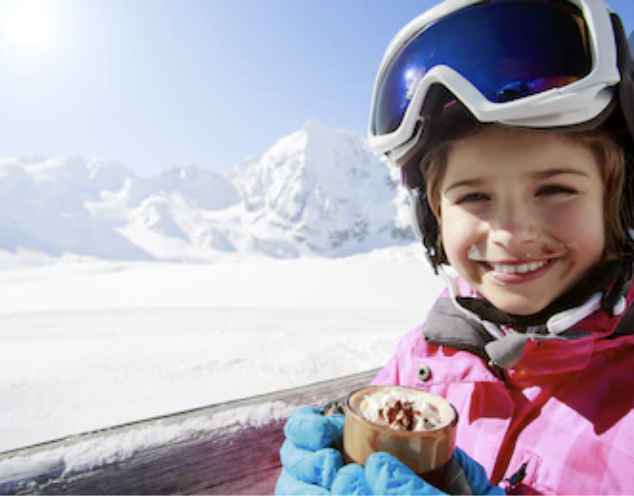 A joint study by the USSA and PSIA has shown hot cocoa mustaches to reduce crying in outdoor winter activities by as much as 30%
A great way for kids to build self-reliance and responsibility in the outdoors is to have them carry their own stuff. Set them up with snacks and a thermos of hot chocolate to carry in their pockets and pack. Take regular breaks to eat – again, more often than you think they'll need to. The trick is to eat before getting hungry, and to keep eating small amounts regularly throughout the day. Then, before transitioning for the ski down, sip some hot chocolate, slap some high fives and take in the views. Be sure to have something yummy and warm waiting in the car as well! The more treats the better, for both kids and adults.
Keep the Stoke High – Use Positive Reinforcement
On both the skin up and the ski down, make sure to notice and point out when the kids are doing well. Saying stuff like "You're hiking like an animal!" or "You're doing a great job staying positive," or "That was awesome when you helped your brother with his boots," will make kids want to keep doing those things.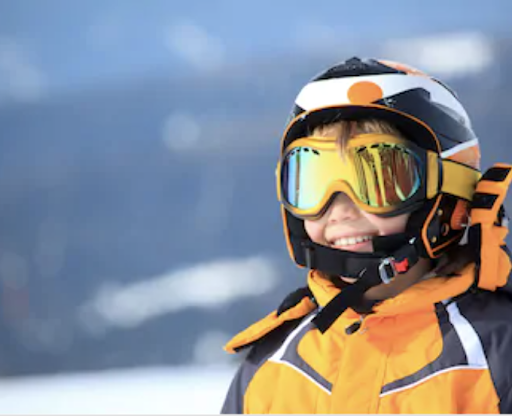 Savor the Experience
Lastly, most experienced tourers know that the best way to end a great day on skis is with a hearty meal and a delicious beverage. Kids are no different – stopping at a favorite restaurant or home-cooking a favorite meal for dinner is a great way to end your trip on a high note while recounting the struggles, turns and triumphant stoke of the day.
A Guide to Kid's Ski Touring Equipment
The ski touring industry is growing as fast as ever. More and more people are being introduced to the freedom of ski touring and the adventure of exploring mountain terrain. But how do you involve the kids? We can't let us adults have all the fun!? Introducing kids to ski touring will allow them to learn and grow within the world of backcountry skiing at a young age. After a few years of skiing uphill, they'll have a completely different perspective on what it actually means to go skiing.

We are happy to report that there are some great options now to get the family ski touring all together - kids included. Brands are cognizant of the challenges of raising a family and have introduced a slew of ski equipment to lower the barrier to entry for youth uphill skiing. Let's talk through the gear necessary to introduce kids to the world of alpine ski touring.
Kids Alpine Touring Packages
An alpine touring package will be the easiest way to get your kids into the world of ski touring. No more hassling with matching skis to bindings to boots. No more worries with wondering if skis will fit or if bindings will work. Both Dynafit and Hagan are offering kid's alpine touring packages that include the following:


- Touring skis that come in kid sizes
- Bindings with an extended adjustment range to fit growing feet
- Precut climbing skins ready to tour uphill


These packages can be adjusted to to a kid's alpine touring boot in the shop, and are then ready to take into the mountains. As easy as that. We want to make it as easy as possible for kids getting into ski touring. This is the best way to do that.
Dynafit Seven Summits Youngstar Alpine Touring Set
This alpine touring set includes Seven Summit skis, Rotation 7 bindings and Pomoca skins. It's an friendly and safe set up that is ready to ski out of the box.
Hagan Boost Jr Alpine Touring Package
This package includes Boost Jr skis, Pure 8 bindings, and Hagan skins. It's an affordable alpine touring set up for kids to learn ski touring in light and easy-to-use gear.
Kids Alpine Touring Skis
You quit carrying your heavy alpine skis uphill sometime ago, and now it's the kids' turn. Kids specific offerings from Dynafit, Hagan, DPS, and Kastle are bringing the length and cost down for the little rippers of the world. Dynafit's SL 80 is an easy-skiing lightweight option for kids, coming in lengths to 129 cm. Hagan gives you a steal of a price for a fun, lightweight and twin tipped ski, going down to a 125 cm length. DPS brings their legendary Wailer shape to older kids lengths (lowest being 148 cm). I can't even imagine how fun it would have been to ski tour with my parents as a kid, let alone in powder with a double-rockered DPS ski! If your kid is seriously into lightweight ski touring, we can't forget about the performance-built Kastle TX82 that comes in a 148 length. This is a high-performing, no-compromise alpine touring ski that is well suited for advanced kid skiers. So many options here for kids who want to explore backcountry skiing.
Kids Alpine Touring Bindings
As tech touring bindings continue to grow (tech means having a pin style toe piece) in popularity, the lower limit of release values remained around 5. There are now several options from Dynafit, Plum, and Hagan that offer lower release values to keep your kids safe while enjoying the awesome benefits of lightweight tech touring. The Dynafit Rotation 7 goes down to a 2.5 RV. For the little ones that we can't quite get in to a tech boot yet, check out the Contour Startup adapter. These are great to try out ski touring at a young age without too much hassle or commitment. The tikes don't need anything high tech for the little bit of plodding about you may get them to do. Simply clip their little alpine boot into the adapter, skin up, and off they go!
Kids Alpine Touring Boots
Alpine touring boots now are offering smaller sizes to help introduce kids to ski touring. Scarpa has been leading the way here. The F1 comes down to a 21.5 which fits kids with sizes 3 and up. The Speedfit from Dynafit is just a size bigger at it's smallest and is a great price point for a foot that's not quite finished growing. The Atomic Backland Sport is a another great option for kids, sizing down to a 22. Lastly, the Salomon Shift 80T Jr is a kids-specific touring boot that also sizes down to a 22 and at the best price point. As with any kids boot, we will generally want to size comfortably with a 2-3 finger fit so that they can stay in them a full season or two.
Get Out Skiing With the Whole Family
While the backcountry ski market may highlight extreme skiing, ski touring can be a very simple and fun family outing. Touring around a nearby mountain pass and transitioning to ski mellow meadows is a more common occurrence in the backcountry. Finish a day of backcountry skiing with a parking lot picnic and you've just made for a perfect winter day. We are now able to provide the gear to make a family backcountry ski day more efficient for the whole team. No more burn outs for the parents or kids. Just lots of smiles and fresh snow.
About the Author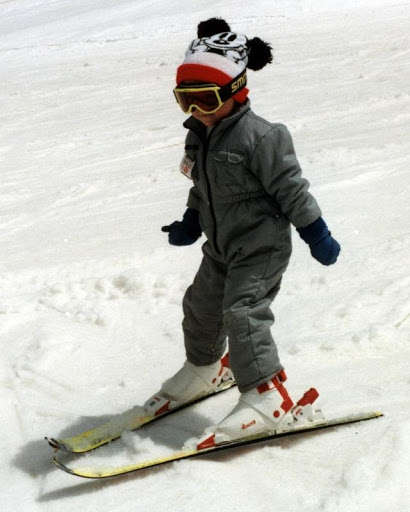 Alex Eherenman is new to the CCBC squad, and while not a parent himself, has spent many a day on-snow with America's youth, first as a ski instructor at Eldora Mountain Resort near Boulder, Colorado, and later as a 3rd grade teacher in Aspen. Countless tear-soaked runs down the mogulled steeps of Winter Park and Mary Jane taught Alex at an early age that parents are easily coerced into ski-related bribery if it means they get to spend a day out on the hill.
A guide to keeping your children on the snow and off the streets by building a healthy, hefty addiction to ski touring. Learn more how to safely introduce your kids to the world of ski touring and what is the best gear to set them up for season's of successful uphill skiing.