When heading out of bounds for a day tour, you can pack the bare essentials to tag your line or bring some of your favorite creature comforts like an extra mug of coffee or a hopped up IPA for the summit. With decades of experience touring and guiding, our internationally recognized and certified guides came up with the ultimate backcountry skiing packing list to make sure you are setup to have a fun and safe tour.
SKIING EQUIPMENT
Alpine Touring Boots
 

-

 
AT boots were made for walking, and like any footwear you spend an entire day walking in, a proper fit makes this the most essential part of an AT setup. Our bootfitters advice- forget specific features and focus on the correct fit.
Touring Skis
 

-

 
With hundreds of models and lengths to choose from, choosing the correct ski can be a daunting task. Keep your selection simple and purpose driven. For every day touring and all mountain conditions, 90-105mm is a great width range for most people to explore all conditions and snow types.
Bindings
- Alpine touring bindings come in all shapes, sizes and weights. They're an essential part of moving uphill and recently have seen more technology advancements than most other pieces of gear. From the lightest race bindings to the heaviest alpine hybrid bindings, selecting the right binding is important, as is being realistic on how you'll use them. Bigger does not always mean better!
Skins
- Skins enable us to walk uphill and are the bike tires of skiing- they'll last 80 or so days before being replaced or re-glued. Most skins are typically made of nylon, mohair, or a combination of the both. Nylon grips well and glides okay. Mohair glides well and grips okay. Our most popular skins typically are made from a combination of the two- capitalizing on the best of both worlds.
Poles
- Don't sleep on touring specific poles. Repeat- adjustable touring poles are important. It's good to have long poles for power going uphill, and short poles for maneuverability downhill. Adjustable touring poles accomplish both, and most options offer either carbon or aluminum versions.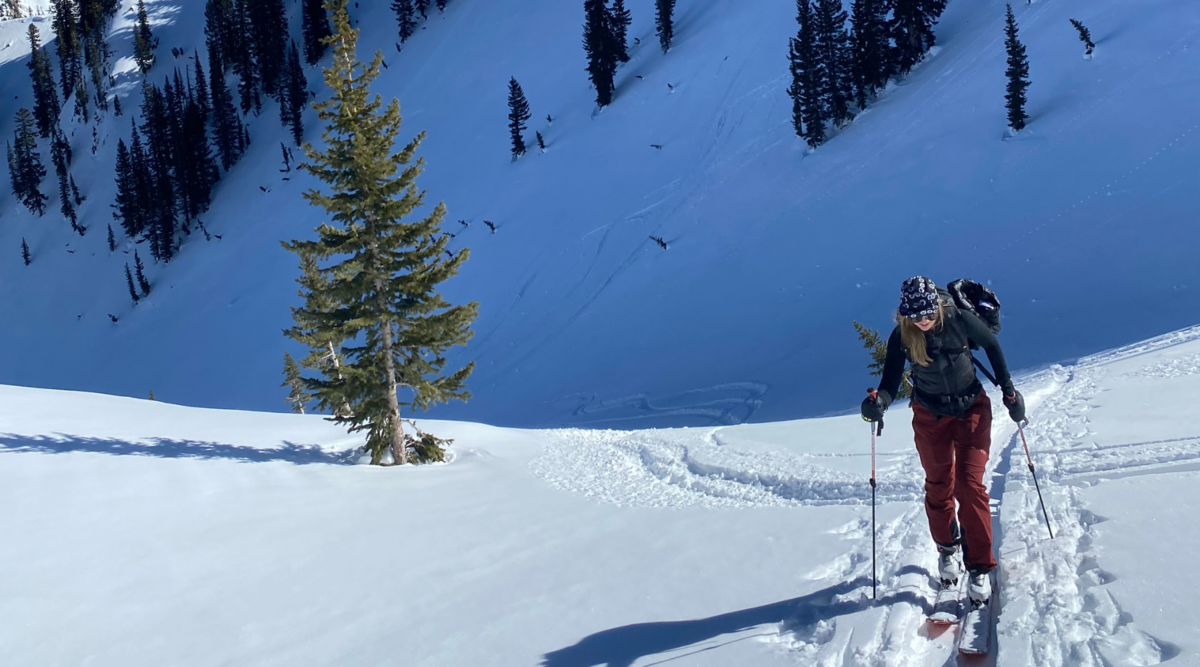 AVALANCHE SAFETY EQUIPMENT
Whenever you are heading out of bounds, a full avalanche safety kit is a no questions asked essential.
Beacon -

 
The piece of technology that could save your or your buddies life. While all beacons operate on the same modern frequency, beacons tend to have different features across the brands. Avalanche instructors and guides will all say the same thing, though- the best beacon is the one you are familiar with and use regularly.


Shovel -

 
Your backcountry partner will appreciate you digging them out with a high quality shovel. While they come in a variety of sizes, many choose to go on the bigger side for faster snow removal in an emergency.


Probe -

 
Probes pinpoint a buried victim in an avalanche. They fold up like a tentpole but are designed to release to full length quickly in a singular motion. Probes come in either aluminum or carbon and at varying lengths. If you live in a place with a deep mid-winter snowpack (WA, OR, CA), you'll most likely go a bit longer (over 300cm) in length. For those in CO or UT, many will be fine with a 240cm length probe.


Backpack -

 
A durable, uphill specific pack makes life exponentially easier than using a regular backpack. Touring specific packs offer unique feature sets that are specific to ski touring, racing, or airbags for avalanche terrain.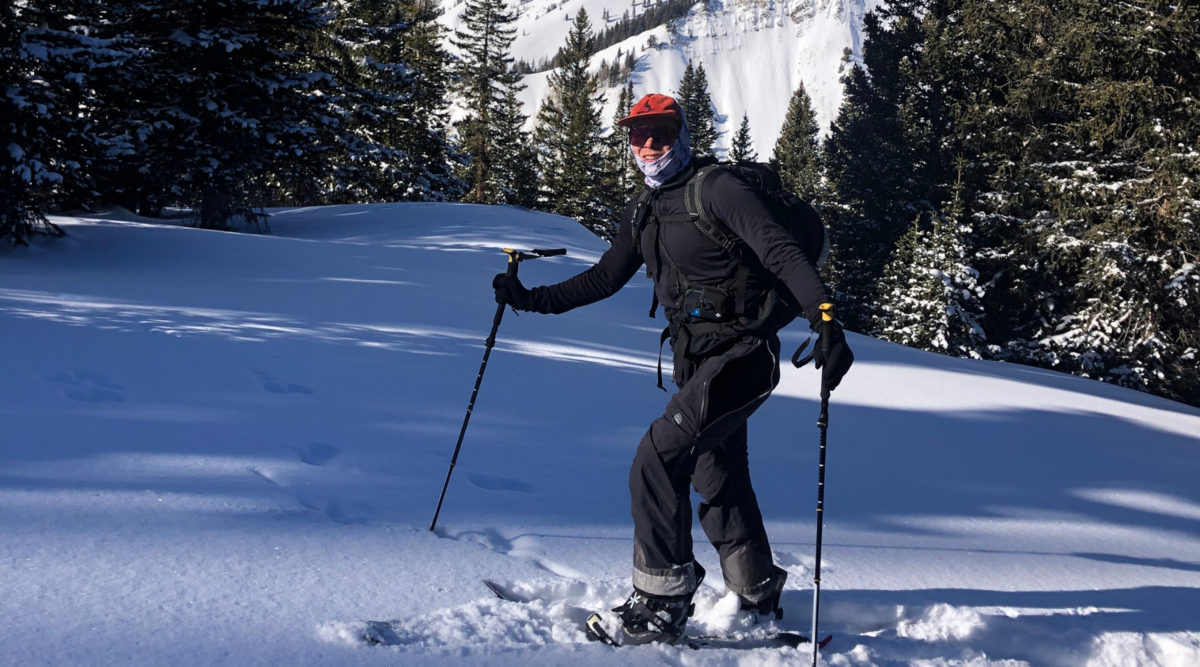 APPAREL
Layering is an art, and we're here to help you select the ideal system to ensure warmth and comfort for a day outside.
Ski Socks-

 
Ski socks can make or break a day. A new boot deserves new socks, as this they are important for both warmth and fit of a touring boot. Note: Thicker is not always more warm or comfortable. A snug fitting or compression sock will also help prevent blisters.

Brimmed Hat-

 
Brimmed hats are becoming more and more popular for ski touring as they help keep the sun out of your face and offer some warmth when it's not quite cold enough for a winter hat. 8 hours in the sun can be a lot- even with sunscreen - and a brimmed hat is a backcountry essential.

Warm Hat-

 
Keep your noggin' warm on the up and the down, depending on conditions. Need we say more? Long hair or not, winter is cold!

Helmet-

 
Helmets are standard these days, and light is still safe. Helmets for downhill skiing are heavy and don't breathe- so choose a lightweight, breathable, touring specific helmet.

Base Layer Bottom-

 
Keep your legs warm and dry with long underwear that breathes well and gives warm. Wool- more comfortable, doesn't smell after use, keeps you warm when wet. Synthetic- lighter, more breathable, and less expensive (on average)

Base Layer Top-

 
Often we sweat the most on our upper bodies while ski touring and it's important to mitigate heat and moisture. Wool and synthetic both have advantages, but make sure you're using one of them. Cotton kills!

Mid-weight / breathable insulating layer-

 
Take the edge off of wind or maybe just a tiny bit of extra warmth is needed. Sometimes a down jacket is too much, and just a bit of insulation is needed. Ideally this layer is synthetic for good breathability.

Hardshell or softshell ski/snowboard pants-

 
Softshell vs Hardshell comes down to personal preference, depending on where you live. PNW folks often will want the most waterproof hardshell, whereas Colorado skiers will be using either/or depending on conditions. Breathability is key, and vents are key on layers with non-breathable fabrics.

Hardshell (waterproof + breathable) jacket-

 
As with shell pants, a ski touring specific hardshell jacket is an important layer to block wind and water, while also letting out moisture. Breathability is as important as waterproofness, as we generate heat while ski touring normally.

Larger weight (i.e. 800 fill) 'security' puffy (down or synthetic)-

 
From November to March, a puffy jacket not only will be brought, but used on day tours. Remember- if you're warm and even a little sweaty from going uphill, it takes only minutes to cool to an uncomfortable temperature.

Gloves-

 
Ski touring gloves (or mittens) should have good dexterity, and match to regulate temp Most experienced ski tourers have a few different pairs they will select from, depending on the day. Example: Glove liners for a warm spring day in march, heavier gloves or mittens for a cold January day.

Mittens (aka "Oh Shit Mitts")-

 
A staple of any ski tourers kit, "Oh Shit Mitts" should be light and ready for emergencies. On the days you just can't get warm- down mittens are great. Compact-able and extremely warm, it's not a burden to have these live in your backpack.