About Us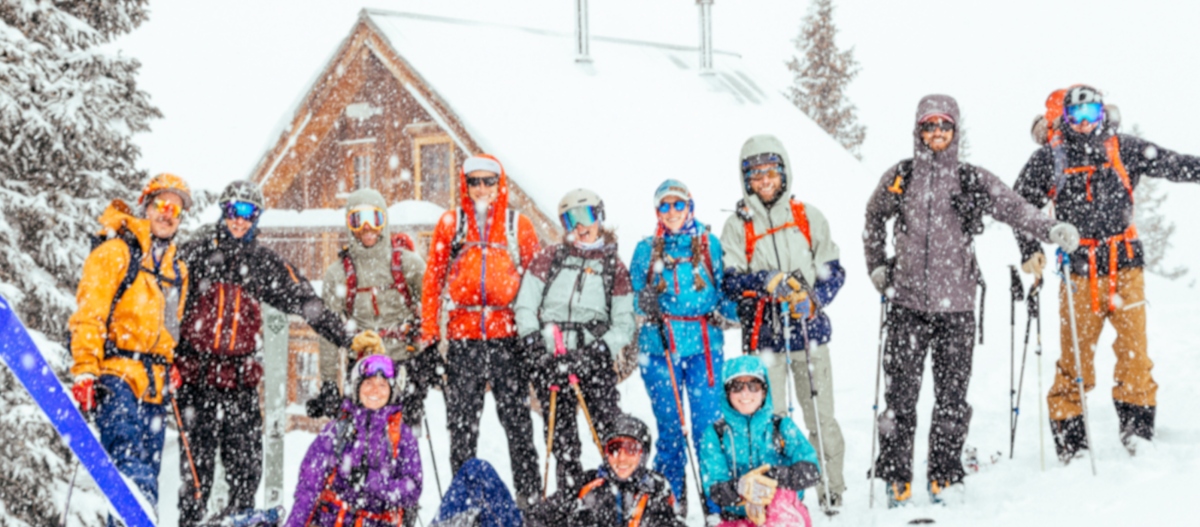 At Cripple Creek Backcountry, our passion is human-powered skiing and snowboarding beyond the restraints and crowds of the resort. We are an "uphill" only touring shop dedicated to providing the backcountry community the widest selection of touring gear with the highest level of customer service. Founded in Carbondale, Colorado; deep in the heart of the Rockies, we are surrounded by terrain that inspires us to do what we love to do. Our experienced team prides themselves on their passion for the mountains and knowledge of the gear we offer. Experts in ski touring, splitboarding, telemark skiing, and ski mountaineering, we realize the value of local advice and experience in the purchasing process. Blending e-commerce and brick and mortar retail, we are happy to provide industry leading boot fitting, shop work, and gear advice online and in all of our six shop locations; Carbondale, Avon, Aspen Highlands, Denver, Silverton and Seattle.

Thanks for choosing us, the local guys and gals. In-store and online, we are happy to serve the community that we love.


Community Responsibility
We value the safety of our customers and the backcountry skiing community alike. Whether it is a beginner transitioning into off-piste terrain after uphilling in-bounds for a season or a veteran climber with many winter objectives, we preach avalanche awareness for everyone as much as we ski. Hosting free Colorado Avalanche Information Center (CAIC) "Meet the Forecaster," "State of the Snowpack," and "Know Before You Go" sessions at each of our shop locations to name a few. Over $20,000 donated to CAIC through fundraising parties and contest hosted by Cripple Creek Backcountry so far.


We continue to help grow the sport of ski-mountaineering races community by volunteering at 5 COSMIC races per season. We set the course routes the day before, assist the race organizers, and work with new and seasoned competitors with their gear.


Our like-minded employees with the love of human-powered skiing thrive in and out of our workplace. All of our shops are located within a dozen minute drive away from world class skiing so we get out and play before and after our shifts. Not to mention our employee hut trips with costs covered by CCBC to learn more about our equipment, the snowpack, and to share the stoke in the mountains.
Cripple Creek Backcountry (Extended) History
In 2008, I met Randy Young while working in an Italian Restaurant in Boulder where he was a server and I was wearing a beret behind a glass shield at a crepe station. We bonded over our love of snowboarding - as most of our coworkers were serious skiers. We started making the drive up to Carbondale to stay with his sister and shred the gnarly blues of Snowmass resort. After spending the summer in Maine, Randy fetched me from the burgeoning rock climbing mecca of the Red River Gorge and we drove cross country - eventually landing in the Roaring Fork Valley.


I only lasted one year of the Aspen Extreme life, as I saw that fitting downhill ski boots at Surefoot and going out 7 nights a week was an unsustainable lifestyle. The time in Aspen, however, was long enough for me to buy my first ski touring setup. My manager at Surefoot told me that my boots were the most comfortable in the world - so why would I want another one? I was also informed that I needed a DIN of at least 14 for bindings. A few weeks later my first uphill setup included Salomon downhill skis, Lange 140 flex alpine boots (no walk mode) and Naxo bindings (a frame binding which would later be discontinued as a lackluster performer). Having not been on skis since age 7, we of course set our sights on dropping off of Highlands Ridge, skiing Maroon bowl, and proceeded to butcher my first couple dozen kick turns as we tried, unsuccessfully to regain the ridge and reenter the resort.


A week later, exhausted but triumphant, I completed my first lap up to the impossibly high Sundeck at Aspen mountain. Shredding down the groom of the Little Nell I soon found myself mysteriously tomahawking down the snow. After hiking back to my skis I found the toe piece hanging on by screw and swiveling around a broken piece of plastic. This was in an age of terrible gear and even worse information, but my life was hopelessly tethered to the world of ski touring.


The next winter I had moved, very temporarily back east, to Burlington Vermont. Originally I was just passing through, but answered a Craigslist ad for an Alpine Touring Expert at the Outdoor Gear Exchange. I had survived 1 season dabbling in ski touring...so who could be more qualified? One week later, I was in a car with Mike Poleto, who later became Cripple Creek Backcountry's Operations Manager, en route to Dynafit's first ever dealer camp. At the time Dynafit was a 3-person company in North America. We met at a lodge in the Adirondacks where the kool aid flowed like the beer that flowed like the wine that I had left behind. In short, Dynafit was a disrupter fighting for market share of the backcountry scene, which at the time was still dominated by a resurgent telemark scene.


I was convinced, Dynafit was the way to go! However, we were living in a world where it was, or at least as Poleto thought, still cool to be a tele skier. If you weren't into telemarking down the hill, you did it on Marker Plate bindings or the new Fritschi Freeride Pro.


At the time Dynafit was the only tech option in North America, but after 30 years that patent had expired and G3 joined the scene with their new "Onyx'' binding. While the tech binding design still needed work, it was time to move back to the heart of the Elk Mountains to start a store dedicated to backcountry skiing.


The Roaring Fork Valley was years ahead of the rest of the country where the new verb of "skinning" had already become mainstream. The Elk Mountain Grand Traverse had already been going through the night from Crested Butte to Aspen for 15 years and Lou Dawson had been blogging on Wildsnow for almost 20 after becoming the first to ski the 54 Colorado 14ers.


We did our research. We asked our industry connections if the United States was ready for the first uphill only ski shop but received emphatic "no"s. We entered the second Power of 4 Ski Mountaineering race with 1 day of training, and 6 months later sublet a 500-square-foot space from Aloha Mountain Cyclery. At the time what little AT ski gear was being sold in America was all at climbing or general outdoor shops. The love for the mountains was there, but the knowledge of ski mounting, boot fitting and ski life was lacking. Although the stoke was high, the funds were low those first few seasons for Randy and I. We worked our nights at Phat Thai and scrapped by for 2 seasons as the only employees at Cripple Creek.


After a couple years we started adding part time employees until we landed our first full time employee, Paul Hamilton, fresh off of his win of his first Grand Traverse. Business was picking up and skiers from around the state were beginning to take notice. We had a policy: when we were asked for gear 5 times we knew we had to carry it. When we were asked for the 5th time that season to open a Cripple Creek in Vail we knew it was time to expand.


Soon after we did a 2 season pop up in the center of Aspen, also subletting from a bike shop until we landed at our perminate space at Aspen Highlands, the site of my heroic first slack country ski tour over a decade ago.


Entering our 10th year of business, we have watched the world of human powered skiing blow up around us. Splitboarding has exploded. Telemark has remained strong and never fully faded to extinction. In our little corners of the state it is now so mainstream that it seemed obvious that we took the plunge a decade ago. Although there are now several copycat operations around the country. We have a commitment to the largest selection, the most passionate staff, and the highest stoke level truly deserving of the first uphill only ski retailer in the United States. - Doug Stenclik (Co-Owner)