If you are in the market for your first avalanche airbag or want to update your outdated pack, it may seem like a daunting task with the increased amount of options to choose from. To make the decision a bit easier, we broke down some of the key concepts to know about avalanche airbags and what to consider when shopping for a new one.
HOW DOES AN AVALANCHE AIRBAG WORK?
Think About Nuts
Avalanche airbag technology is based on a phenomenon called the Brazil Nut phenomenon. If you take a can of mixed nuts and shake it, the largest nuts will rise to the top. How does this nut theory apply to backcountry travelers? When an avalanche occurs, moving snow acts very much like a can of mixed nuts. If caught in a slide, you want to be a brazil nut that rises to the top of the moving snow rather than sinking to the bottom like a peanut. An inflated airbag increases your size and decreases your density giving you a greater chance to rise to the top of the snow rather than getting buried. Head over to Wildsnow.com to learn more about the science behind airbags.
LEARN MORE
Types of Airbags: Compressed Air and Electric Fan
The biggest differentiator between avalanche airbags is the method in which the air bag inflates. Avalanche airbags use either a compressed air cylinder or an electric fan to inflate. Compressed air types are often more affordable and lighter weight (on average) than electric fan packs. However, air cylinder systems have several drawbacks. They are only able to be deployed once per cylinder. Once deployed, the air cylinder needs to be refilled at a certified refill location. This limitation and extra cost can lead users to be hesitant to pull their trigger in the event of a slide. The size of the compressed air system is also a significant disadvantage as they are often much larger than electric fan systems. This extra bulk takes up valuable storage inside the pack. If you like to travel for skiing, air cylinders make travel more difficult as you must empty the cylinder for travel. Then you can bring the cylinder in checked luggage or ship the system to your final destination.

Battery powered fan bags have really started to shake up the avalanche airbag market in recent years. While they are on average more expensive than compressed air systems, they offer many benefits in performance. The electric fan system is more compact, taking up less usable space in the pack. Depending on the brand and model, you are able to deploy the bag several times on one charge. Once the pack's battery is depleted, they can be recharged with AA batteries or a micro-USB connection. Multiple deployments allow the user to let go of reservations to pull the trigger in the field or to test the bag at home before entering the backcountry. Additionally, without the need for a compressed air cylinder, air travel is no problem with these packs.
I understand that different people learn differently. Some are narrative learners (hence the extended prose comparing electric fan to compressed air systems above. Others are graphic learners. For that I've included a distilled chart below comparing the two different types of avalanche airbags.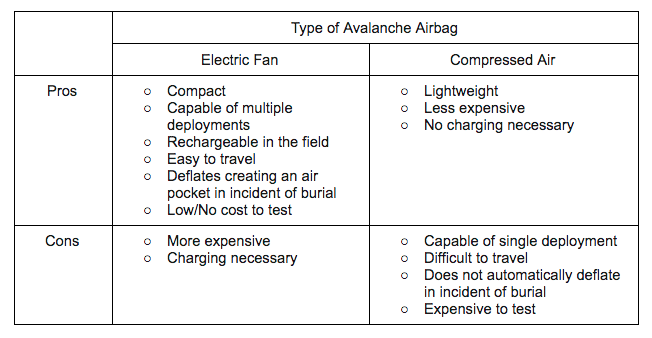 CRIPPLE CREEK BACKCOUNTRY TOP PICKS
BEST VALUE PACK
A time tested and reliable avy bag that features BCA's lighter and smaller compressed air system. The Float 32 is a great pack loaded with features and valued at a fair price. With dedicated wet and dry pack compartments, compatibility with
BCA Two Way Radios
, diagonal ski carry, snowboard vertical carry - this pack is ready for backcountry powder hunting.
ULTRALIGHT PACK
Weighing in just under 4 pounds, this is the pack for those looking to maximize weight savings without losing the essentials. This pack has all the features you need for big days in the mountains including: a separate snow safety compartment, diagonal ski carry, snowboard carry, quick access hip belt storage, and an ice axe loop. You can store a helmet on the outside of the pack with
ARVA helmet holder
. The Reactor Ultralight has a compressed air cylinder system
CCBC STAFF FAVORITE
The Patrol E1 features the Alpride electric fan system. The new Turbo fan requires less power to deploy which allows this system to be extremely compact, leaving you with the maximum amount of usable storage space. The pack itself features a dedicated snow safety pocket, goggle pocket, diagonal ski carry, and ice tool carry. This pack is svelte and trustworthy.
ABOUT THE AUTHOR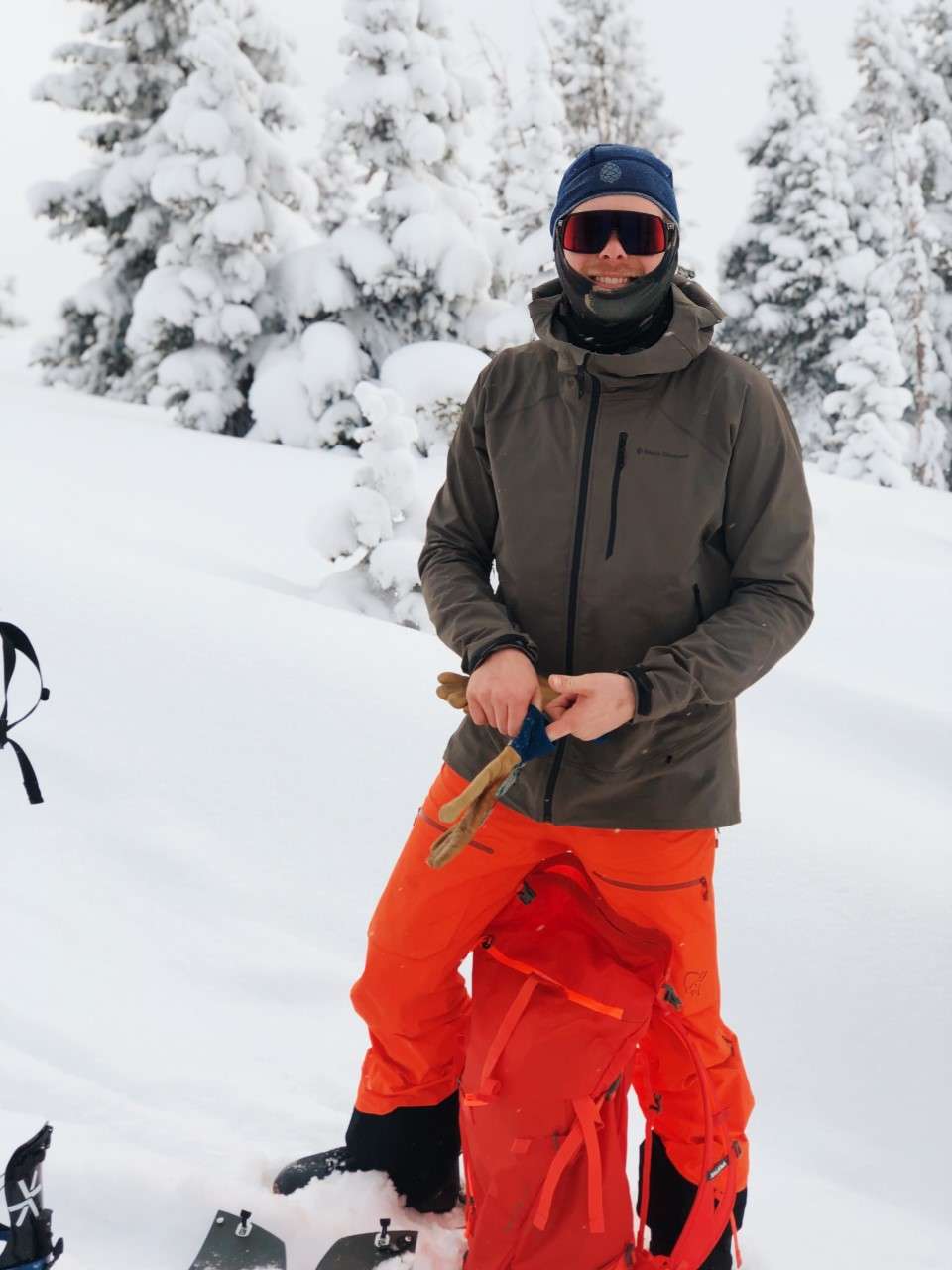 Alex Popovich
Alex is a transplant from Kentucky who found his home in the mountains. You'll find him out hunting for pow with his board split in two or trying to convince the rest of the world that splitboarding will will take over the backcountry.