Doug, Manasseh, and I planned to ski together this past December in the Northern San Juans. Our conversation the morning-of went something like this:
Ring Ring
Doug: 'Hey Slator, how's it going? What are you thinking for skiing today?'
Slator: 'Doug! Doing great. Psyched for our day out skiing. How are you and Manasseh doing? I'm hoping for a mellow tour. It would be great to catch up, get some fitness in, and find good snow out there.'
Doug: 'I'm thinking the same. Let's just take avalanche terrain off the menu for today.'
Slator: 'Sounds great! I'm glad we're on the same page. Want to meet at the top of the pass at 9:00 AM?'
Doug: 'We'll see you then!'
We met at the trailhead and reviewed our tour plan for the day. The three of us planned to ski to a summit above the pass. We connected county roads, pine groves, and a big San Juan summit without ever entering avalanche terrain. All the way up, we engaged in classic 'skin track chat.' Once at the top, we looked over an expansive San Juan vista. Skins were ripped, variable snow was skied, and wiggles were made. We ended back at the cars with big smiles, low stress, and lots of terrain traveled.
A Celebration of the Mellow Tour
Is getting mellow just as cool as getting rowdy?
Mellow tours like these aren't what typically get featured in TGR films or showcased on ski magazine covers. There were no blower face shots, no Alaskan-style spines, and no huge cliff hucks. That's exactly what we hoped for. A mellow tour. We want to show you how to plan a mellow tour, highlight the merits of casual backcountry skiing, and give you a few examples of what those tours might look like.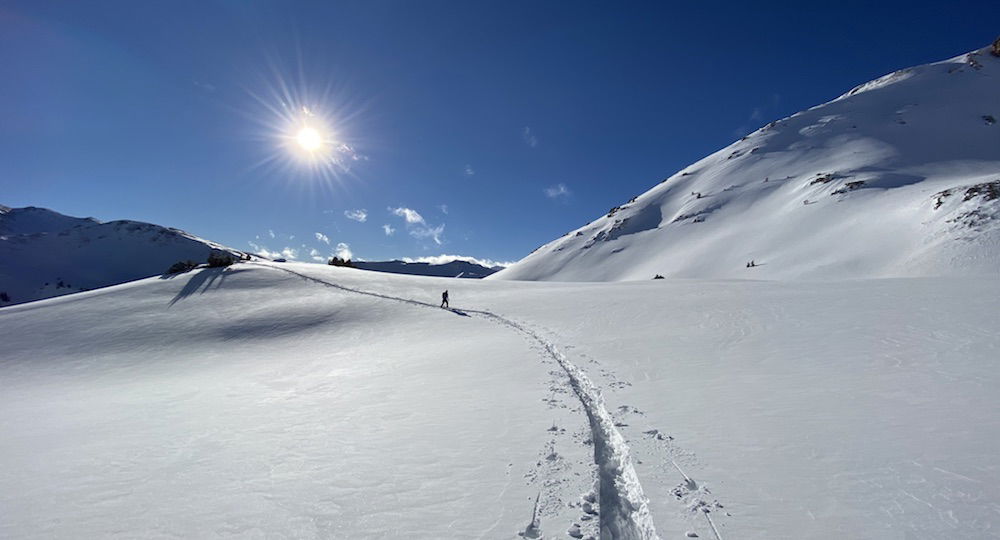 You don't need epic terrain to have an epic time. Mellow tours can provide a quality day of skiing minus the added hazard of traveling in avalanche terrain.
Merits of a Mellow Tour
My idea of a mellow tour is one that doesn't enter avalanche terrain. Slab avalanches generally occur on slopes 30° or greater.
Less than 30° and slopes are not steep enough to cause an avalanche
. With that in mind, we can stick to mellow terrain and still have a raging good time. There are a few lifetime's worth of quality backcountry skiing terrain that never cross a 30° measure. However, it's important to still be aware of traveling near or under connected avalanche terrain when out on mellow touring missions. There are also other risks involved in backcountry travel like exposure to cold weather and skiing-related trauma. Nonetheless, mellow touring can take the edge off of a backcountry experience by limiting the inherent risk involved with traveling through avalanche terrain. It can make for fun and safe outings that don't risk life or limb. Let's take a step back and assess mellow touring for what it's worth:
Cons of the Mellow Tour
Let's turn this into a discussion of the pros and cons of the mellow tour. Feel free to comment below to tell us how you feel about low angle wiggles, getting stuck in flat powder, and exposure to avalanche terrain.
How to Plan a Mellow Tour
Here are a few step for how to plan a mellow backcountry tour:
1. Use a mapping software like Caltopo to plan out a route that avoids avalanche terrain (more detailed resource
here
)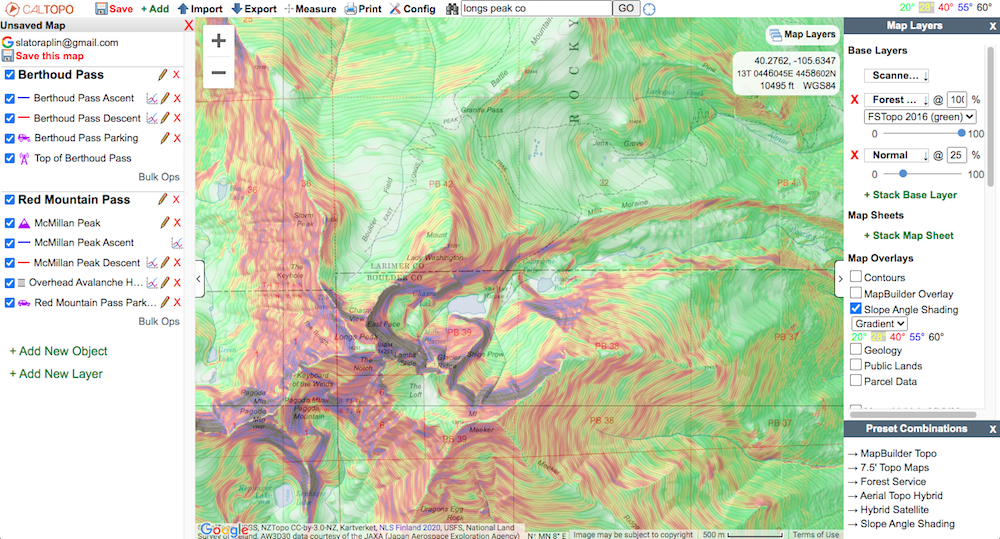 Here's a great example of what Caltopo looks like with a Slope Angle Shading Overlay. We can identify slope angle and thus avalanche propensity. Be careful, this data has a finite resolution and won't show microscopic change in terrain that can still promote the possibility of an avalanche. This image shows the terrain around the beautiful Long's Peak. Do you see some fun, safe skiing terrain?
2. Upload that route to an app on your phone, print a backup map, and get a way to measure slope angle in the field. The combination of a navigation app, a printed backup and an inclinometer (slope angle measurement tool) are all great resources for in-the-field navigation and terrain assessment.

3. Get out for a tour and test your route. Was the terrain too steep? Was the terrain too mellow? How was the snow quality? This constant stream of improvement and self-assessment will lead you to better and better mellow outings in the future.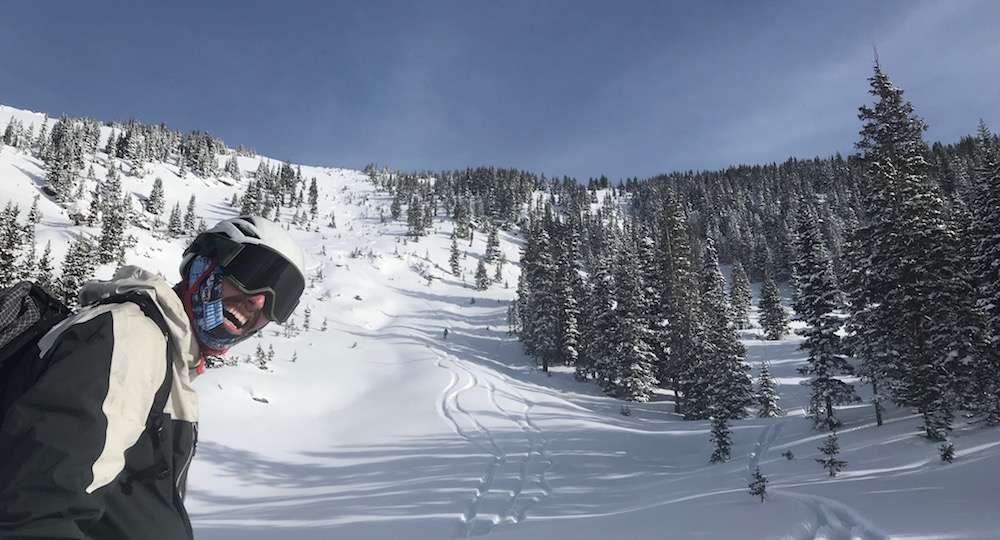 Make sure you're having fun while out on a mellow tour. Otherwise...what's the point?
4. Make it fun! Have a focus for your tour to spice things up. Some ideas are:
Mission Tour:
Plan a tour around an objective like reaching a lake, summit or historical site. Think about loops or traverses with this mission style in mind.
Here's a great idea.
Fitness Tour:
Center a tour around fitness. Can you tour for X amount of hours/miles/feet of vertical gain. Planning longer tours on a ski resort is a great way to get out for a fitness tour. The best on resort fitness touring in the US has to be
Aspen Snowmass ski resort.
Social Tour:
Focus a tour around the question of WHO not WHERE. Think about who you want to ski with first, then what you want to ski. Ski touring is a great way to spend quality, present company with old or new friends.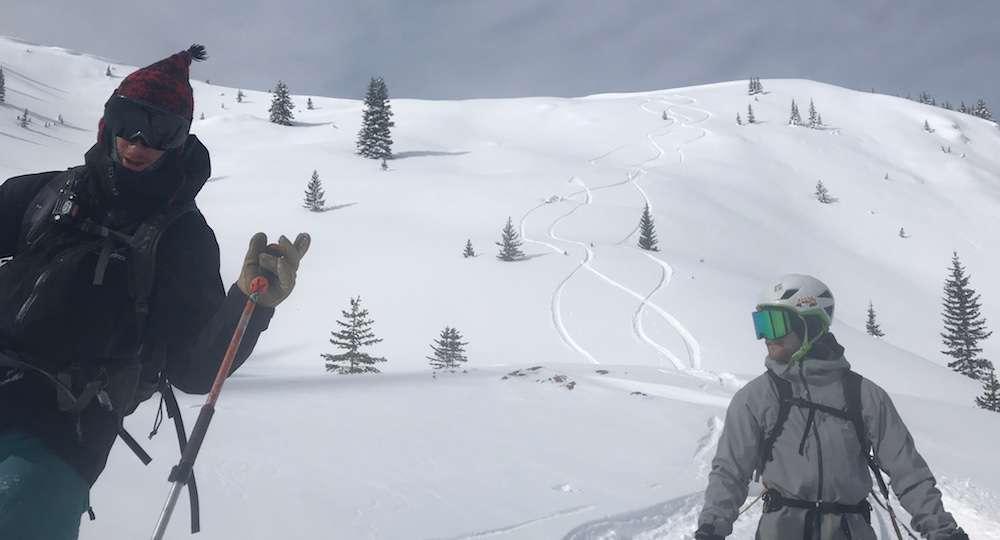 Sharing powder turns with quality friends is one of life's finer pleasures
A Few Examples of [Very Fun] Mellow Tours
Red Mountain Pass Vista Tour
Length: 2 miles & 1,800' vertical gain
Starting Elevation: 11,000' / Ending Elevation: 12,800'
Quality: Scenic tour with high potential for low angle wiggles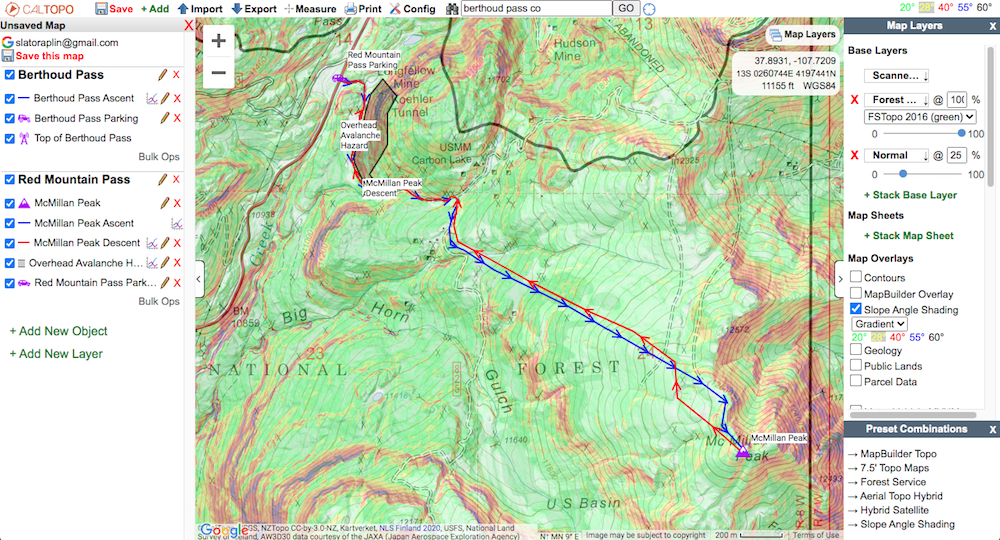 Berthoud Pass Hot Lap
Length: 0.75 miles & 1,200' vertical gain
Starting Elevation: 11,200' / Ending Elevation: 12,400'
Quality: Easy outing up and back right from the car!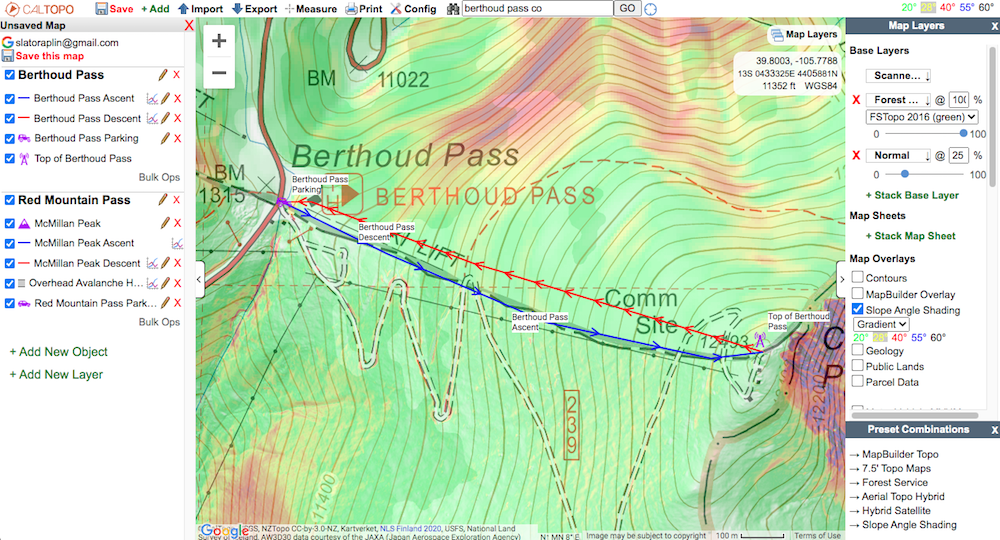 Both of these tours are examples of mellow tours that never enter avalanche terrain, they limit overhead avalanche hazard, and provide for a fun day of backcountry travel. Give them a try and keep your eyes peeled for similar ventures in you local backcountry terrain.
A Mellow Conclusion
I have no intention of reinventing the wheel with the idea of mellow touring (#mellowtour). People have been doing this for centuries (
millenia?
). The advent of skiing steep terrain is a much more recent endeavor. I am merely psyched on blowing the dust off a forgotten segment of the backcountry ski world. Let's celebrate conservative decision making. Let's relish in the safe serenity of < 30° terrain. Maybe one day we'll even get a segment in TGR of some AWESOME low-angle, powder-wiggle skiing in a far flung remote destination. Until then, I'll continue to root around for mellow tours, quality snow, and hopefully share it all with my best pals.
If you want to learn how to build these skills: route planning, tour navigation and backcountry skiing technique - reach out to us at Cripple Creek Backcountry. We are partnered with Aspen Expeditions who provide ski touring instruction in the Elk Mountains, across the American West, and abroad! An AMGA certified ski guide can mentor you to become a low-angle powder hound.
Author Slator Aplin's favorite kind of #mellowtour include the following:
sharing fresh snow with quality friends and/or family
115-underfoot powder boats equipped with race bindings
wide-mouthed thermos filled with ramen noodles
blue bird weather
no vert-hungry vibes (sometimes this exists)
We want to show you how to plan a mellow tour, highlight the merits of casual backcountry skiing, and give you a few examples of what those tours might look like.