Guest Blog by Anabelle McLean:
Founder & Master Washer at Gear Washers
We have a guest post from Anabelle at Gear Washers. Gear Washers is a Denver-based company that properly washes and treats technical outdoor fabrics. Drop your kit off at any CCBC location. We can send the gear to the washing experts at Gear Washers, and you'll get a whole new life out of that beloved jacket or lucky sleeping bag. Let's hear what this company is all about and why it might be worth it to wash and retreat that technical outerwear.
Cripple Creek Backcountry + Gear Washers
You wouldn't dare throw a cashmere sweater or your suit blazer into the wash with the likes of your tees and jeans, would you? So why would you do any different with technical fabrics like your waterproof ski shell or down sleeping bag? It's all about that technical material you paid mucho bucks on and the very damaging effects household laundry detergents will have on it. That's where the Denver-based company,
Gear Washers
, comes in. Their specialty is properly washing and re-waterproofing your coveted outdoor gear and apparel so it lasts as long as its (often lifetime) warranty.
The idea is to keep gear alive that's already being made by outstanding companies. There's no need to throw away something that's perfectly good – it hasn't gone bad just because it's dirty. It is amazing what just washing and re-waterproofing will do to revive an old favorite. With pricing starting at $20, you're looking at a small cost to refresh your kit while also keeping landfills free of textile waste.
Let's Get Technical with DWR
New gear, what is it that makes it so damn waterproof? More often than not your touring jacket and pants were designed with an outer coating called DWR (durable water repellent). This finish allows moisture to bead up rather than soak in, so rain or snow can easily wick away. The result is no heavy, soggy jacket. DWR also works by allowing the fabric to breathe; sweat can escape and clamminess is prevented. When in prime condition your gear is keeping you safe and warm against the harsh conditions you push it through.
Proper Washing and Re-Waterproofing
Even though they put "durable" in DWR, your highly technical kit has maybe one well-used season before waterproofing starts to degrade. At Gear Washers, their process of washing gets all the dirt, oils and sweat out of the fabric, while the re-waterproofing treatment will restore water-wicking capabilities to near-new. What you will see is a brighter, more vibrant and water-resistant jacket (or pants, vest, puffy, etc). They also have a "grime removal" option to lift deep-set stains like grease and sunscreen. Another cool offering they provide is skin proofing. This treatment will vastly up your uphill game by decreasing ice buildup and improving glide.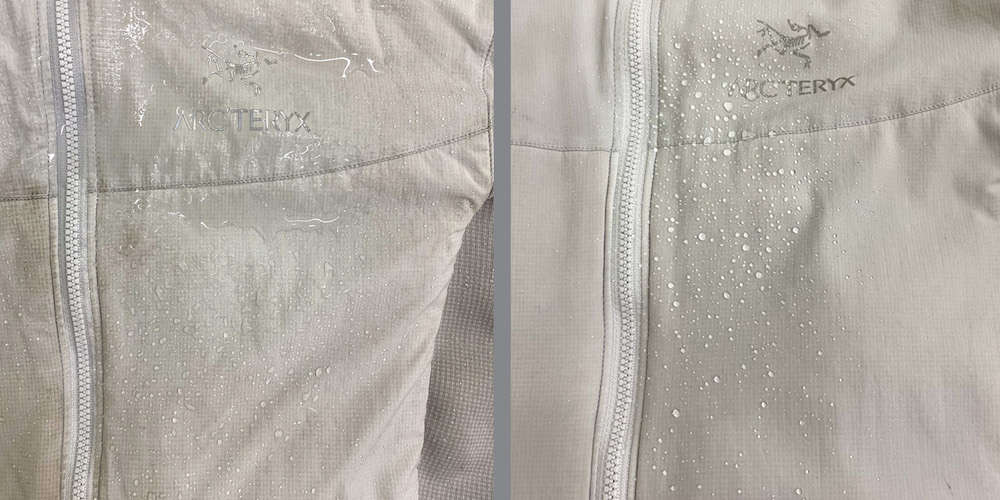 Here's an Arcteryx synthetic puffy before (left) and after (right) a Gear Washer's waterproof retreatment
The Gear Washers Difference
The difference is in the detergents, you won't see Tide Pods around the Gear Washers facility! They use the least environmentally impactful products to wash out stink and grime and get your outerwear re-waterproofed for your next adventure. They do this to save the outstanding gear that you already own.
How Can I Get My Gear Cleaned?
CCBC is stoked to partner with Gear Washers so you, our customers, can benefit from their gear restoring mastery.
Here's how it's done:
Place an order at
gearwashers.com
use code CCBC15 at checkout for 15% off your order
-
Bring in your dirty gear to the Cripple Creek Carbondale location by October 31st, and have your order number handy.
-
Clean gear will be ready for pick-up after November 14th
After a quality wash and rewaterproofing, this Black Diamond First Light Hardshell Jacket is as good as new. Left is before and Right is after Gear Washer's waterproofing retreatment.