Aconcagua
The South American Sentinel of Stone
Standing at an immense 22,841 feet (6,962 meters) in elevation, Aconcagua is stunning in both size and beauty. This mountain is the tallest point in South America and a great introduction into high altitude mountaineering. Aggressive weather, extreme altitude, and a remote location make Aconcagua a challenging feat for any level of mountaineer: beginner or expert.

We offer comprehensive private online shopping assistance to guarantee perfect sizing and the exact equipment needed for this mountaineering objective. Schedule a gear consultation today.
CONTACT US HERE
Head and Eyes
Sun Hat: For keeping the sun off of your face. Look for something that is lightweight and breathable
Beanie: Swap into a beanie at night time or when the temps drop closer to the summit.
Neck Gaiter (Buff-style): For all weather protection - wind, sun and cold temps.
Balaclava: When the weather gets really nasty, a buff won't quite cut it. Bring out the balaclava to save the day [and your face!].
Sunglasses: In the high mountains, you need a full coverage pair of sunglasses to protect your eyes from reflective sun glare and weather. Aim for something that is at least CAT 4.
Goggles: Goggles work the same as a balaclava. When the weather is harsh, putting on a pair of goggles makes everything a bit more tame. Don't forget to bring multiple lenses (low light and high light) for various sun conditions.
Feet and Hands
Midweight Socks: These will be worn with your mountain boots on the higher mountain. Compression socks help prevent blisters and promote faster recovery. Aim for a wool/synthetic blend and absolutely no cotton.
Heavyweight Socks: These can be worn for extra warmth and when at camp to get cozy. Aim for a wool/synthetic blend and absolutely no cotton.
Hiking Socks: Hiking socks help your feet breath when using hiking shoes. Aim for a wool/synthetic blend and, again, absolutely no cotton.
Hiking Shoes: These will be used when approaching the lower mountains and before you switch over into mountain boots
Mountain Boots: These need to be double boots that are crampon compatible. Double boots with removable liners let you dry out the liners at night and keep your feet warm enough with the extreme weather. Your toes should have sufficient wiggle room and your heel should feel snug with minimal lift while walking. This is arguably the most important piece of kit on the list - so make sure they fit properly before leaving for the mountain. We recommend either the Scarpa Phantom 6000 or the La Sportiva G2 Evo.
Insulated Booties: These are used for around-camp shoes to let your feet take a break from mountain boots and stay warm while in the tent. We reccomend the Feathered Friends Down Booties
Liner Gloves: These gloves can be worn inside your midweight gloves or mittens for extra warmth, or even by themselves on the lower mountain for sun protection.
Lightweight Gloves: These will be worn on the lower mountain when conditions are temparate. They should fit snug, have good dexterity, and be wind resistant.
Midweight Gloves: These will be worn on the upper mountain when the temps start dropping. They should have also good dexterity, waterproof and insulated. These will be your go-to gloves until summit day or during exceptionally cold weather events.
Mittens: These are worn during extreme weather (like the balaclava and goggles). You'll wear your liner gloves inside of these.
---


Keeping your feet and hands warm is a crucial consideration for high-altitude mountaineering. If you want personalized advice for the exact right gloves or custom fittings for hiking shoes and mountain boots - reach out to us and schedule a one-on-one appointment.
SCHEDULE AN APPOINTMENT
Upper Body
Shortsleeve T-Shirt: A lightweight, synthetic t-shirt is great for sunny days on the lower mountain. Wicking moisture in the most important quality of this item.
Longsleeve Baselayer: Change into a longsleeve higher on the mountain when more insulation is needed (and when your t-shirt starts getting stinky!). A zip collar on this layer is nice for added ventilation.
Fleece Midlayer: A fitted synthetic or wool fleece, full-zip hoodie is a nice base layer that probably won't leave your body on the upper mountain.
Synthetic Hoody: This is an insulation piece to stay warm even when wet.
Wind Hoody: This layer helps protect against inclement weather and wind and breaths better than a traditional three-layer waterproof breathable fabric. We recommend The North Face L4 Softshell Hoodie
Down Parka: The bigger and puffier the better. Make sure it has a hood, can fit over other layers and it high quality down (800+ fill). We recommend The North Face L6 Down Parka.
Lower Body
Synthetic Shorts: These are ideal for when conditions are scorching on the lower mountain.
Baselayer Bottoms: Look for something that insulates well and wicks moisture effectively.
Softshell Pants: You'll be wearing these for the majority of the expedition, and cycling the baselayer bottoms for added warmth. Make sure they're breathable and weather resistant.
Puffy Shorts: These are like walking around in your sleeping bag (comfy!). Wear them at camp or during extremely cold days out. Ensure you can fit the pants over the top of your softshell pants and be able to put them on without taking off your mountain boots (full-length zips help). Puffy Pants are an alternative to puffy shorts that are warmer, but bulkier and harder to put on ( the Feathered Friends Helios Down Pants are a good option)
---
If you want more personalized information about upper and lower body apparel, schedule an appointment with us for a one-on-one consultation.
SCHEDULE AN APPOINTMENT
Expedition Kit
Duffel Bags: You'll need two 90-120L durable and waterproof duffles. One for the expedition and one for keeping in-town items secure.
Sleeping Bag: A bag rated to -20°F is what you'll need for comfortable sleep. Get a down bag for better packability and weight-savings. Don't forget a compression sack to store it in. We recommend The North Face Inferno -20°F.
Foam Sleeping Pad: A foam pad is helpful for lounging in the sun at camp and providing extra insulation for your inflatable sleeping pad. The Thermarest Z-lite SOL is our recommendation.
Inflatable Sleeping Pad: The ideal pad is thick, insulated and rectangular, like the Thermarest XTherm.
Day Pack: This pack is for day hikes and city touring. The ideal size is 10-25L, such as the Mammut Duncan 24.
Climbing Pack: This will be your main pack for the expedition. It should fit comfortably, have a 50-60L capacity, and be weatherproof. The Osprey Mutant 52 is a great option.
Trekking Poles: These poles will help share the hold and support your legs while hiking. Make sure they're collapsible, like the Black Diamond Alpine Z Poles.
Water Storage: We recommend 2 1L Nalgene water bottles for water storage and a 500ml thermos for hot drinks.
Eating System: You'll need a plastic bowl, spoon and mug that are durable and lightweight. The MSR 2 Person Mess Kit is a great option.
Headlamp: The brighter the better with headlamps. The Petzl IKO CORE is the best in the game for its weight and size.
Technical Gear
Helmet: Get a climbing specific helmet that is able to fit a sun hat or balclava underneath. The Petzl Meteor is a great option.
Harness: An mountaineering specific harness is lightweight and able to fit over all of your layers. The Blue Ice Choucas Light is the best option for this.
Crampons: A mountaineering specific crampon is steel, has anti-balling plates, and is fully automatic. The Petzl Irvis is the best option for this style of crampon.
Everything Else
Synthetic Underwear: bring a few pairs of these please!
Sunscreen (SPF 50+): The thicker and more protection the better with the harsh high-altitude sun
Lip Balm (SPF 30+): Same thing goes for lip balm: get the high SPF
Ear Plugs and Eye Mask: Quality sleep is the best road to recovery. Don't let anything stop you from quality beauty sleep.
Sandals (Flip-Flops, Crocs, etc.): These are great to let your feet breath if it's warm enough (like in town or on the lower mountain).
Journal and/or cards for personal entertainment: Gotta keep the tent-time entertaining.
External Battery Pack: This will be helpful to charge a phone, camera, or various other electronics. Don't forget associated charging cables
Personal Firstaid Kit: Bandaids, Ibuprofen, cough drops, blistercare, peptobismol, imodium, personal medications are all helpful additions.
Toiletries: Toothbrush, toothpaste, hand sanitizer, lotion, wet wipes, and hand warmers are items to consider
To Wrap It Up:
If you have any other gear questions, or want a personalized gear list for your next big mountain adventure - contact us at 970.510.0450. We would love help get you kitted with the exact equipment for your next backcountry mission.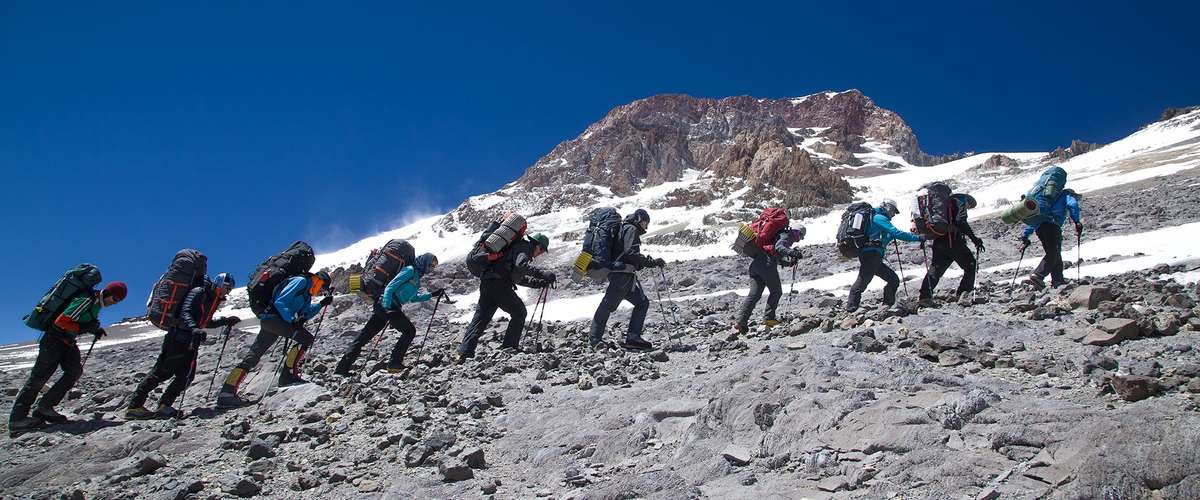 Cripple Creek Backcountry can get you situated with the perfect kit for an expedition to the beautiful Aconcagua. We're here to help you get organized with the exact equipment needed for this mountaineering objective.