Kid's Touring Gear: An Updated Guide for How to Get Kids Out Ski Touring
Kid's Touring Gear: An Updated Guide for How to Get Kids Out Ski Touring
A Guide to Kid's Ski Touring Equipment
The ski touring industry is growing as fast as ever. More and more people are being introduced to the freedom of ski touring and the adventure of exploring mountain terrain. But how do you involve the kids? We can't let us adults have all the fun!? Introducing kids to ski touring will allow them to learn and grow within the world of backcountry skiing at a young age. After a few years of skiing uphill, they'll have a completely different perspective on what it actually means to go skiing.

We are happy to report that there are some great options now to get the family ski touring all together - kids included. Brands are cognizant of the challenges of raising a family and have introduced a slew of ski equipment to lower the barrier to entry for youth uphill skiing. Let's talk through the gear necessary to introduce kids to the world of alpine ski touring.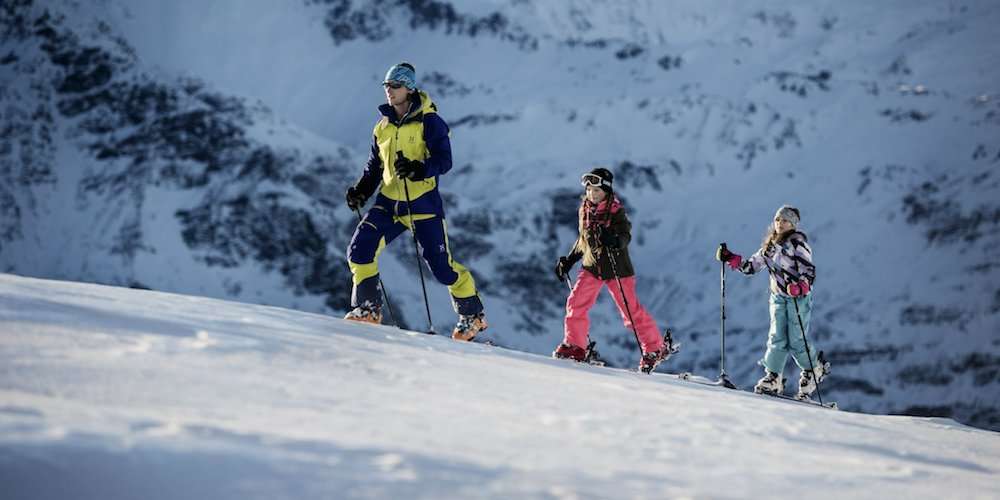 (Photo courtesy of Hagan Ski Mountaineering)
Kids Alpine Touring Packages
An alpine touring package will be the easiest way to get your kids into the world of ski touring. No more hassling with matching skis to bindings to boots. No more worries with wondering if skis will fit or if bindings will work. Both Dynafit and Hagan are offering kid's alpine touring packages that include the following:


- Touring skis that come in kid sizes
- Bindings with an extended adjustment range to fit growing feet
- Precut climbing skins ready to tour uphill


These packages can be adjusted to to a kid's alpine touring boot in the shop, and are then ready to take into the mountains. As easy as that. We want to make it as easy as possible for kids getting into ski touring. This is the best way to do that.
Dynafit Seven Summits Youngstar Alpine Touring Set
This alpine touring set includes Seven Summit skis, Rotation 7 bindings and Pomoca skins. It's an friendly and safe set up that is ready to ski out of the box.
Hagan Boost Jr Alpine Touring Package
This package includes Boost Jr skis, Pure 8 bindings, and Hagan skins. It's an affordable alpine touring set up for kids to learn ski touring in light and easy-to-use gear.
Kids Alpine Touring Skis
You quit carrying your heavy alpine skis uphill sometime ago, and now it's the kids' turn. Kids specific offerings from Dynafit, Hagan, DPS, and Kastle are bringing the length and cost down for the little rippers of the world. Dynafit's SL 80 is an easy-skiing lightweight option for kids, coming in lengths to 129 cm. Hagan gives you a steal of a price for a fun, lightweight and twin tipped ski, going down to a 125 cm length. DPS brings their legendary Wailer shape to older kids lengths (lowest being 148 cm). I can't even imagine how fun it would have been to ski tour with my parents as a kid, let alone in powder with a double-rockered DPS ski! If your kid is seriously into lightweight ski touring, we can't forget about the performance-built Kastle TX82 that comes in a 148 length. This is a high-performing, no-compromise alpine touring ski that is well suited for advanced kid skiers. So many options here for kids who want to explore backcountry skiing.
Kids Alpine Touring Bindings
As tech touring bindings continue to grow (tech means having a pin style toe piece) in popularity, the lower limit of release values remained around 5. There are now several options from Dynafit, Plum, and Hagan that offer lower release values to keep your kids safe while enjoying the awesome benefits of lightweight tech touring. The Dynafit Rotation 7 goes down to a 2.5 RV. For the little ones that we can't quite get in to a tech boot yet, check out the Contour Startup adapter. These are great to try out ski touring at a young age without too much hassle or commitment. The tikes don't need anything high tech for the little bit of plodding about you may get them to do. Simply clip their little alpine boot into the adapter, skin up, and off they go!
Kids Alpine Touring Boots
Alpine touring boots now are offering smaller sizes to help with introducing kids to ski touring. Scarpa has been leading the way here. The F1 comes down to a 21.5 which fits kids with sizes 3 and up. The Speedfit from Dynafit is just a size bigger at it's smallest and is a great price point for a foot that's not quite finished growing. The Atomic Backland Sport and Hagan Core Pro are two more great option for kids, sizing down to a 22 and 23 respectively. As with any kids boot, we will generally want to size comfortably with a 2-3 finger fit so that they can stay in them a full season or two.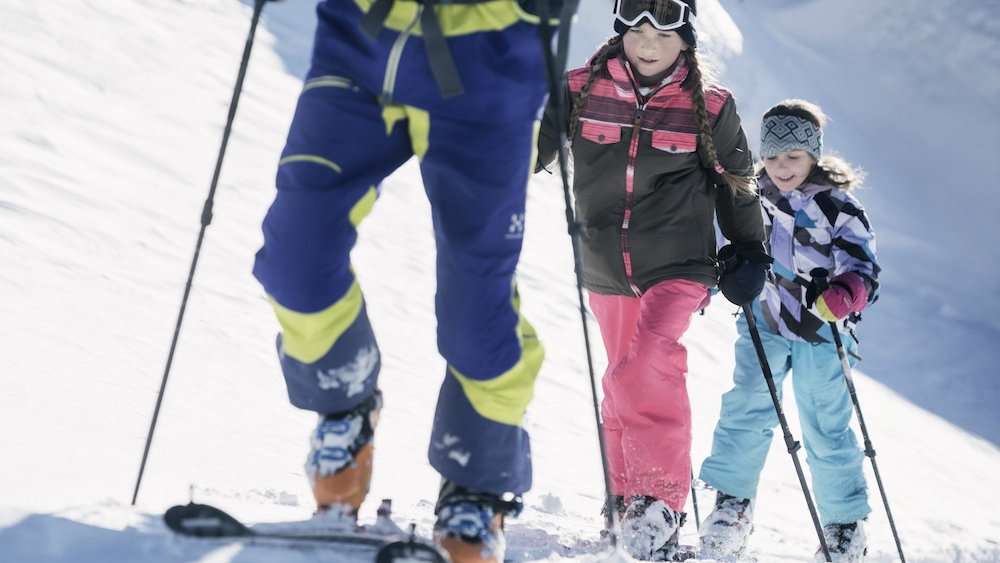 (Photo courtesy of Hagan Ski Mountaineering)
Get Out Skiing With the Whole Family
While the backcountry ski market may highlight extreme skiing, ski touring can be a very simple and fun family outing. Touring around a nearby mountain pass and transitioning to ski mellow meadows is a more common occurrence in the backcountry. Finish a day of backcountry skiing with a parking lot picnic and you've just made for a perfect winter day. We are now able to provide the gear to make a family backcountry ski day more efficient for the whole team. No more burn outs for the parents or kids. Just lots of smiles and fresh snow.