What is ski touring?
As long as humans have lived in cold climates, they have looked for ways to move efficiently through snow. Long before machines whisked skiers up steep mountainsides for their own recreational enjoyment, trappers and explorers used skis as a vehicle of transportation. Ski-touring is a return to the roots of our sport, using modified gear to access pristine mountain wilderness. Nowadays, however, our motives for traveling through remote mountain landscapes are rooted in pleasure, rather than necessity.


Ski touring gives us access to the semi-mythical 'backcountry' that you see on movie screens, Instagram feeds, and ski shop posters. Known by terms such as Ski Touring, Alpine Touring, Ski Mountaineering, or Radonnée, these all involve the ability to climb uphill or traverse on skis or a split snowboard, then transition to downhill mode and ski or snowboard back down, even for multiple laps.


The transition from populated resort operations to less-populated backcountry destinations doesn't have to be overly daunting. Just combine some slightly different (and often much lighter) gear with proper education and a couple of your closest friends, and you'll be in the backcountry in no time!


Why every skier should consider buying an uphill setup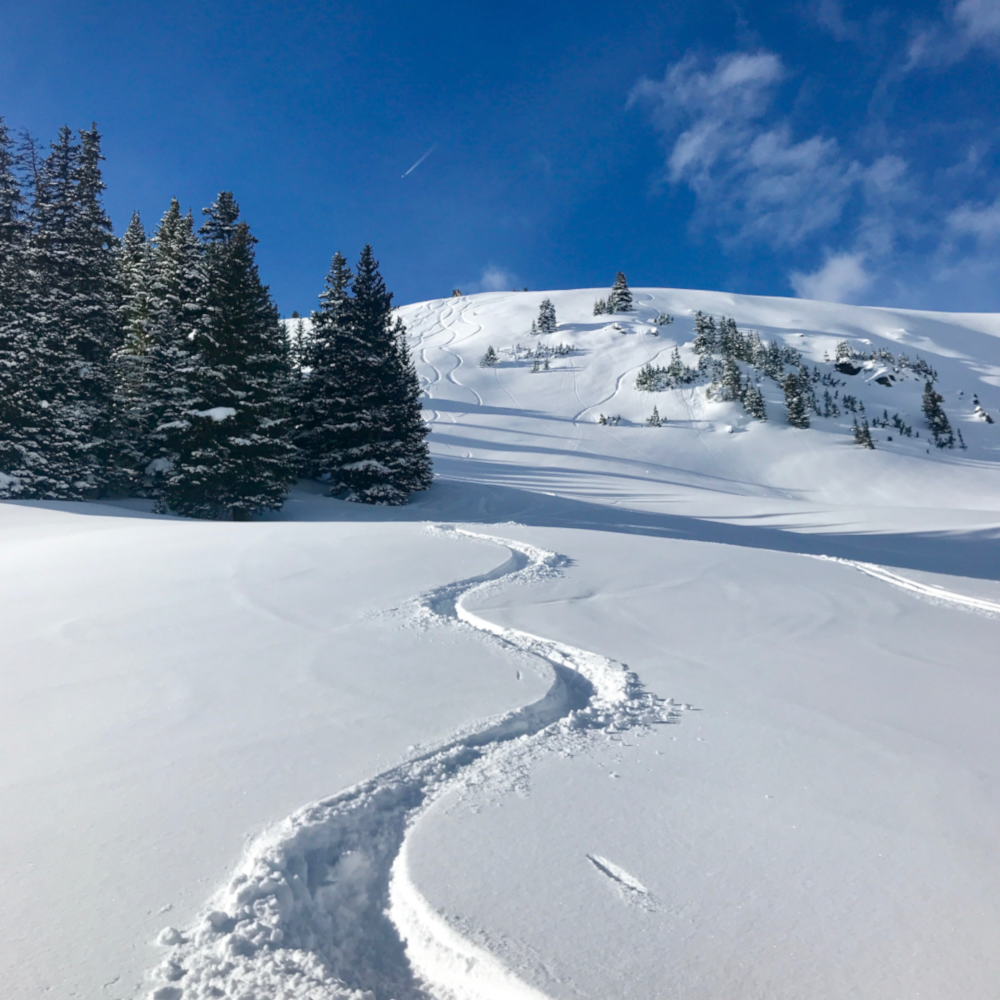 Why ski/ride out of bounds?
In the age of mega ski passes and high speed lifts, skiing isn't what it used to be. Powder days are high anxiety mad dashes to get first tracks, groomers require navigating through a swarm of skiers, and lift lines are too common place. For these reasons, more people are heading into the backcountry to find what has been lost in our amazing sport. They are seeking the solace of human turns to remember why they fell in love with this sport in the first place.
Read More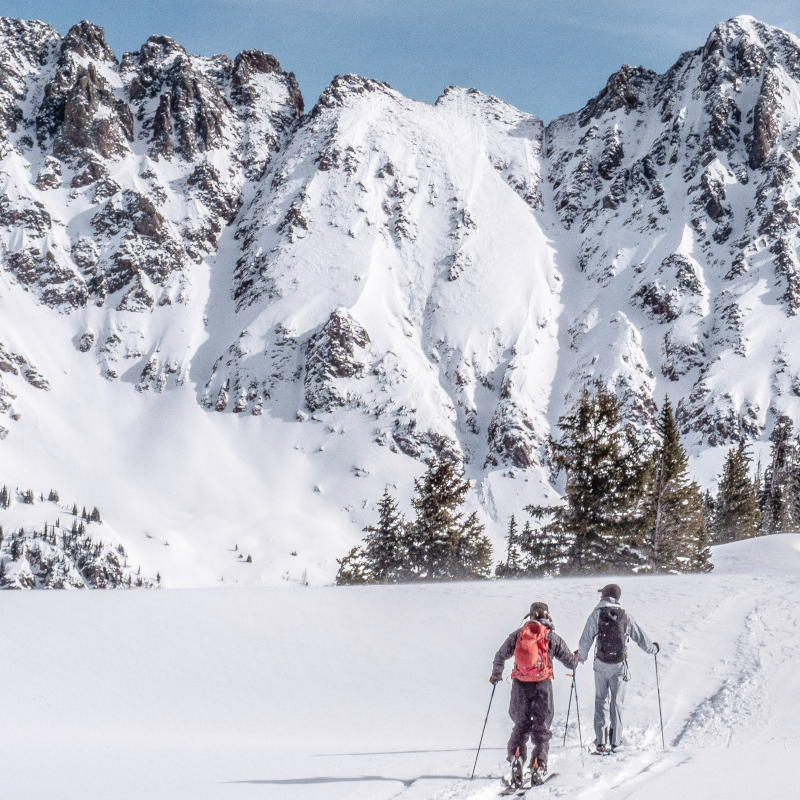 How do I access the backcountry?
The backcountry can seem like a mysterious and unattainable place at first. Backcountry gates at resorts offer sobering warnings of injury and death. Movies glorify pro skiiers outrunning avalanches on steep mountainsides after being dropped off by a helicopter. Even ski tracks visible from the highway can be intimidating. Where did they come from? How did they know where to go? How did they get there?
(PC:
Drew Warkentin
)
Read More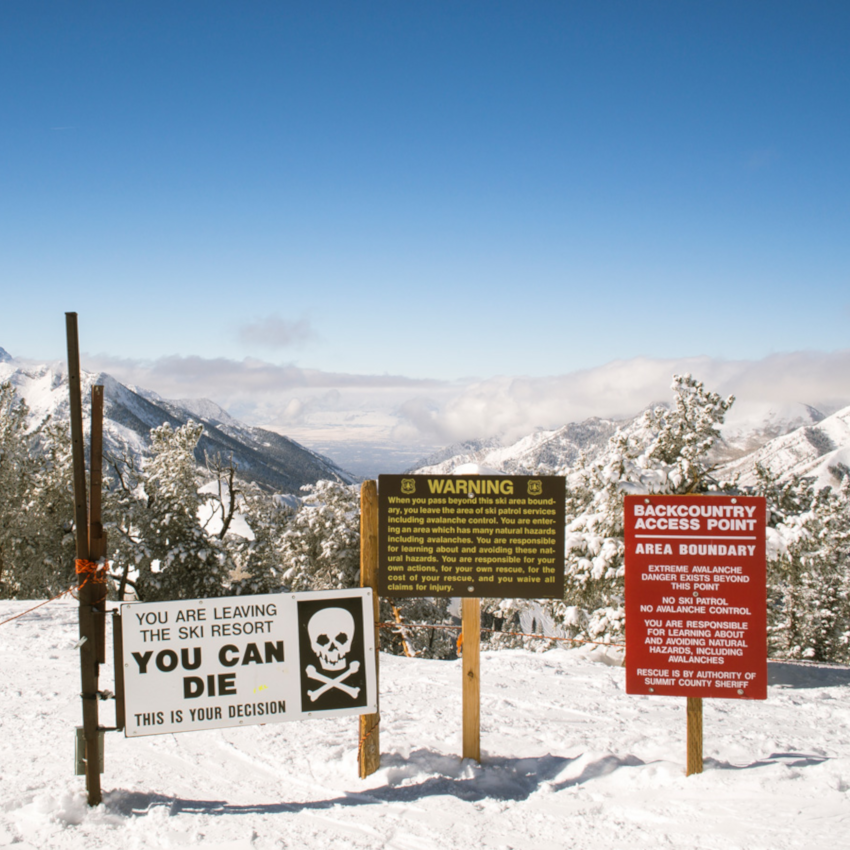 How do I Stay Safe in the Backcountry?
Skiing is incredible, but no one wants to lose their life doing it. Venturing beyond the boundary ropes of your resort means entering uncontrolled mountain terrain, and with it a slew of hazards. Taking the leap into the backcountry requires education, gear, and self awareness. What is your risk tolerance? If your ski partner gets caught in a slide, will you be able to dig them out? Do you have all the gear you need to 'ski another day'?


Read More
What gear will I need?
While getting wintertime in the mountains is certainly beautiful, it can also be a very hostile place. For that reason, you are going to need the right gear to set yourself up for success. Specialized skis/boots/bindings, climbing skins, proper clothing, avalanche rescue equipment, communication devices, and more will help keep you alive and well as you navigate through the backcountry. While this all might seem overwhelming, don't worry, we're here to help.
-
Choosing the Right Ski-Touring Setup
-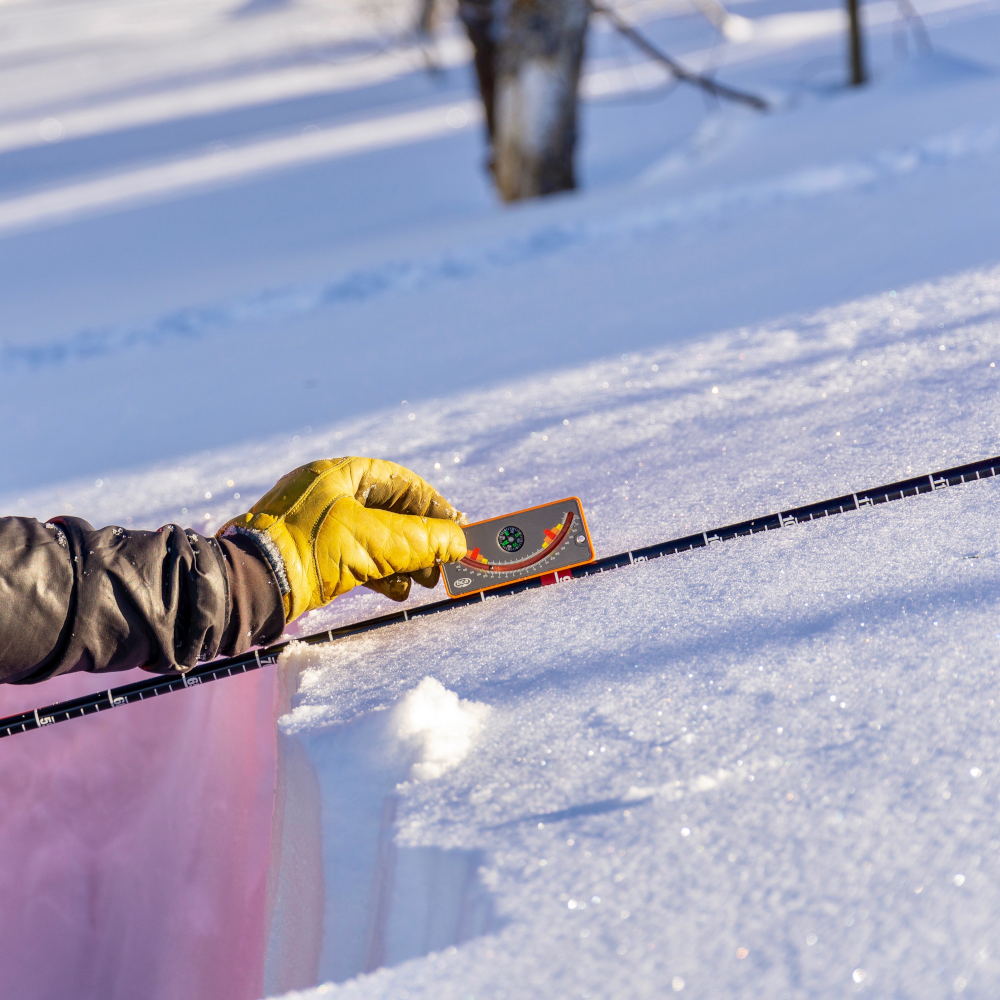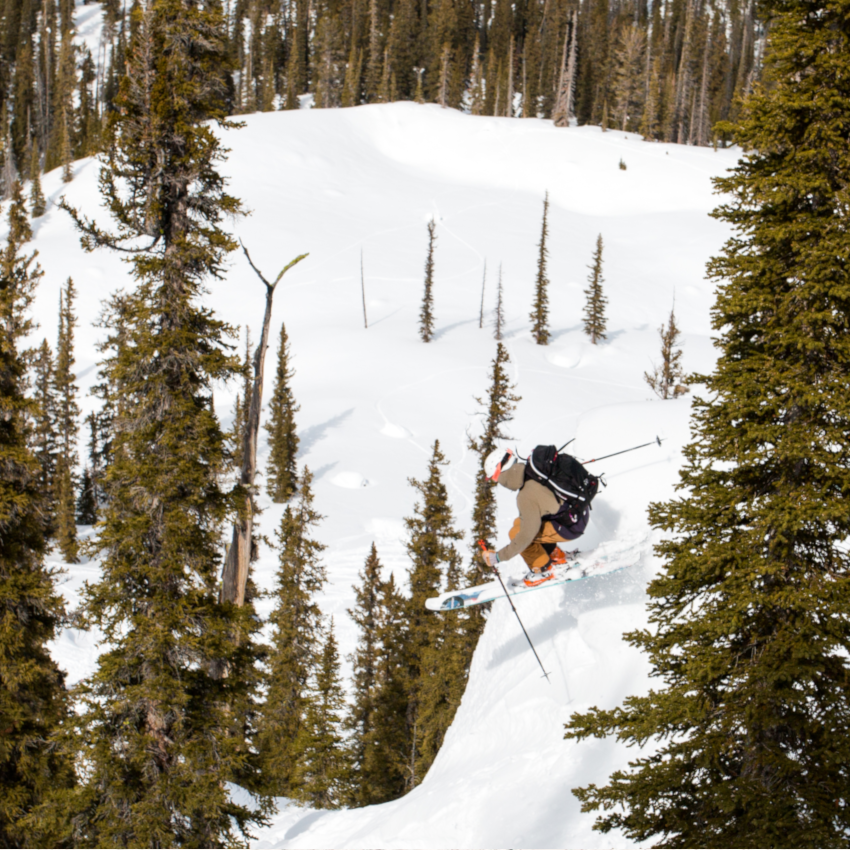 Touring Boots
Touring boots will look and perform similarly to an alpine boot, but they weigh much less and feature a 'walk mode'. This feature is the key to accessing remote mountain peaks, or not looking like a penguin when you walk around the village. Lightweight materials such as pebax and carbon keep the overall weight of ski-touring boots to a minimum whilst maintaining rigidity.
(PC:
Aidan Goldie
)
-
How to Size a Touring Boot

-
WildSnow Boot Buying Guide

-
Shop Touring Boots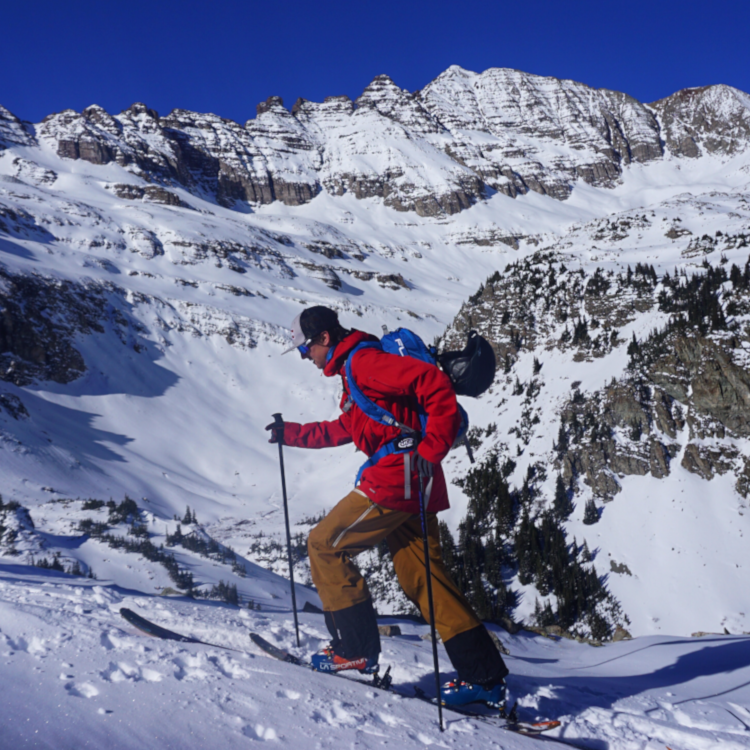 Touring Skis
Just like the alpine world, there are different touring skis for different applications. Whether you're sending cliffs, skiing pow, or trying to get up the mountain as quickly as possible- there's a ski specific to your needs. In general, touring skis will be lighter than their resort counterparts, but how much lighter is dependent on the quiver slot they fall into.
-
How to Size an Alpine Touring Ski

-
Shop Touring Skis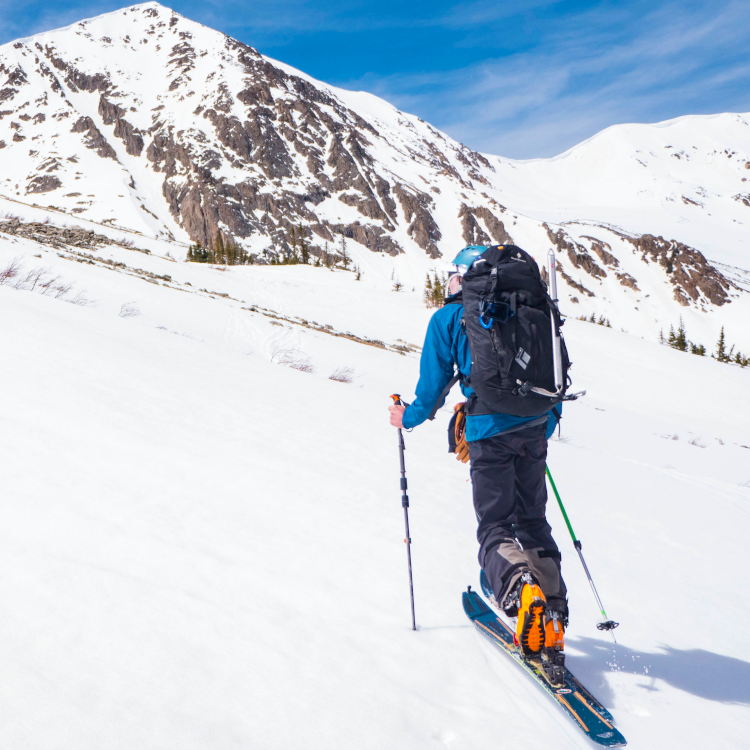 Touring Bindings
The most common touring binding use a Dynafit patented 'pin' toe that clamps around the boot's toe, locking into place. Touring heels can vary from a traditional alpine style system that 'clamps' your boot to the ski, or a more minimalist tech heel that you step into with a specialized touring boot. Weight is an advantage of touring specific bindings, but what sets really makes the difference is the ability to free the heel, and pivot on the toe when climbing uphill.
(PC:
Ben Gadberry
)
-
How to Choose an Alpine Touring Binding

-
WildSnow Binding Museum

-
Shop Touring Bindings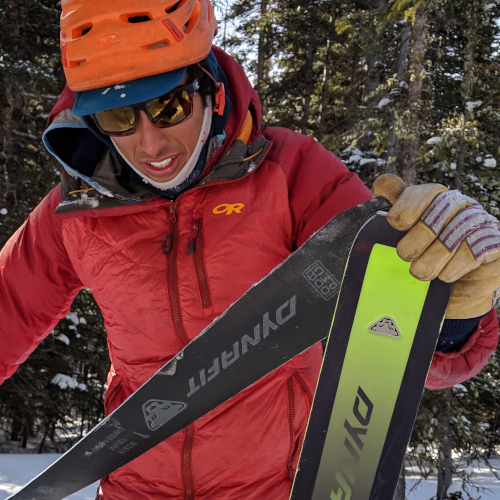 Climbing Skins
Climbing skins allow your skis to glide forward on snow as you climb uphill, but grip to prevent you from slipping backwards. Predominantly manufactured from Mohair or Nylon fibers, think of climbing skins like bike tires. They won't last the life of your ski, but they hold to key to accessing all the amazing terrain the backcountry has to offer. Without skins, we wouldn't make it very far in the mountains.
(PC:
Aidan Goldie
)
-
Choosing the Right Climbing Skin

-
5 Climbing Skin Myths Debunked

-
Shop Climbing Skins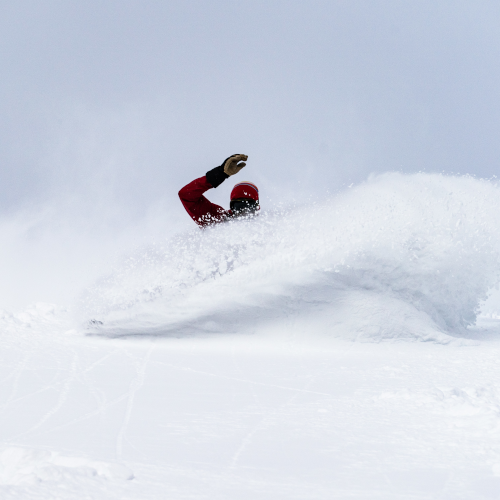 Splitboards
Splitboards are specialized snowboards that are designed to split in half for the ascent. Specialized bindings give you the ability to re locate your bindings and free your heel so you can walk up a mountain just like you would if you had skis on. When you get to the top, your board snaps back together, your bindings return to their natural position, and you ride down the slope just like you would on a normal snowboard.
(PC:
Evan Green
)
-
Choosing a Splitboard

-
Choosing a Splitboard Binding

-
Splitboardings Top 5 Upgrades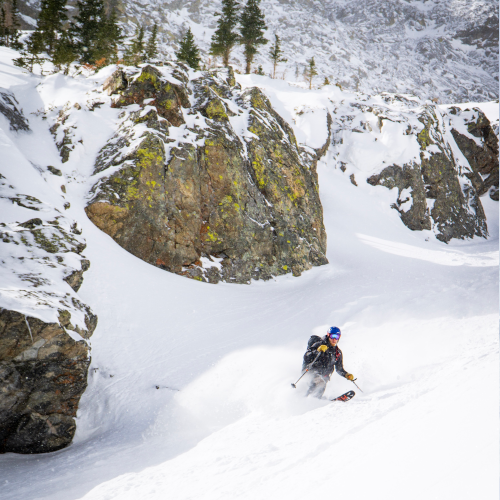 Telemark
'Free the heel, free the mind'. Telemark skiing is the original way to get around in the backcountry, and advances in technology has made it more efficient than ever. If you love to drop the knee, then take solace in knowing you can use your tele setup to tour around the backcountry.
(PC:
Evan Green
)
-
Telemark Skiing Isn't Dead!